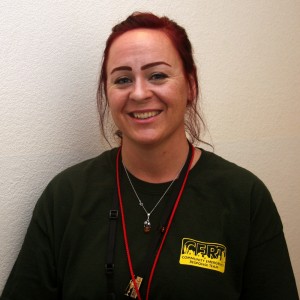 Emergency Training Comes to Unitek College
"Knowledge is power," asserts Rachel Harling-Smith, a member of the Fremont Community Emergency Response Team.
Earlier this week, Rachel took the time to speak to Unitek College students about emergency safety skills on behalf of Fremont's Community Emergency Response Team (CERT). Rachel is a former Unitek College Medical Assisting student, as well as a Unitek Education EMT Boot Camp* graduate. Currently, Rachel splits her time between working for Royal Ambulance and volunteering with the City of Fremont's CERT program. Despite her hectic schedule, Rachel finds her efforts meaningful, stating, "it's worth it to know that people are prepared."
The Fremont Community Emergency Response Team, or CERT, is a group of volunteers dedicated to educating community members before a disaster strikes. They also volunteer to protect the community, often acting as first responders during an emergency.
During her visit, Rachel shared emergency safety tips with Unitek College's Medical Assisting students. Above all, she emphasized the importance of situational awareness during an emergency. To stay safe, you should always pay attention to what is happening around you. Aim to understand how your actions and the actions of others will impact the situation. A lack of awareness during an emergency can result in grave consequences for you or those around you.
Rachel's most important safety recommendation—regardless of a person's level of medical training—is to "stop and think." She asserts that taking a few seconds to slow down and think through your options can be extremely beneficial. Remember that the consequences of your actions can have a huge impact on your safety and the safety of others.
The CERT safety presentation touched on multiple topics, including disaster preparation ideas for your home, how to control your utilities, tips for fire safety, and how to respond to hazardous materials and weapons of mass destruction. All of the topics covered in Rachel's presentation are discussed in more detail during Fremont's Personal Emergency Preparedness (PEP) class, designed to empower community members to protect themselves and their families during a disaster.
Unitek College would like to thank Rachel and the Fremont Community Emergency Response Team for taking the time to educate our students about emergency safety. Additionally, we would like to thank Rachel for her participation in Unitek Education's annual Mas Cal Training events, which help to educate our nursing and EMT students, as well as the community of Fremont, about emergency response protocols.
---

Unitek College offers a variety of healthcare and technology training programs, including Medical Assisting, Pharmacy Technician, Vocational Nursing, Registered Nursing, Bachelor of Science in Nursing, and Information Technology. For more information about our programs and campus locations, please visit www.unitekcollege.edu.
For more information about attending the City of Fremont's free Personal Emergency Preparedness (PEP) class, please visit www.fremont.gov/102/PEP.
*EMT Boot Camp Training is the portion of the EMT program which includes intensive on-campus education with daily lectures and hands-on skills.  
https://www.unitekcollege.edu/wp-content/uploads/2017/07/Rachel-Harling-Smith-300x300.jpg
300
300
Unitek College
https://www.unitekcollege.edu/wp-content/uploads/2017/07/unitek-college-logo-01.svg
Unitek College
2014-07-24 17:36:01
2021-03-18 15:37:17
Emergency Training Comes to Unitek College