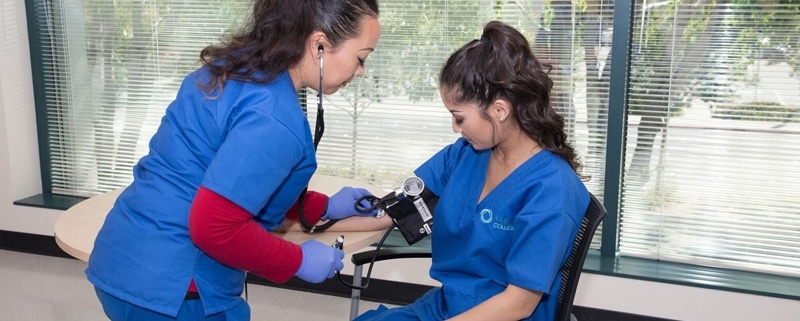 Unitek College Grad Ready to Make a Difference as an LVN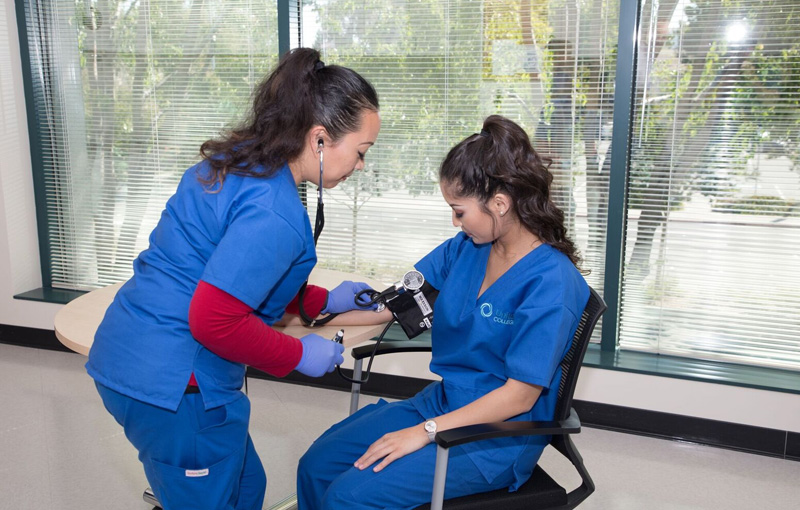 Margaret Hsu is a proud graduate of Unitek College's Licensed Vocational Nursing program. She is proud because she had a wonderful experience at Unitek College. Between the faculty, the learning environment, and the staff, she knew she made the right decision in attending. The feeling is mutual, as Margaret's instructors, peers and admissions staff are all very delighted to be part of her success.
Margaret never planned on becoming a nurse, or working in the healthcare field. She got her MBA from USC 25 years ago, and worked in the business world ever since. Ten years ago, Margaret began working at the Tzu Chi Foundation. It was while working in business operations for this Buddhist Relief Foundation, when Margaret found her true calling in nursing. The Tzu Chi Foundation's mission is to relieve the suffering of the global poor. The department Margaret worked in was the "Mission of Medicine", whose mission was to provide medicine, healthcare, and holistic treatment to people suffering from conditions they could not afford to treat. Margaret was responsible for coordinating everything for Tzu Chi's medical teams: from finding volunteer doctors and nurses, to scheduling their travel, to coordinating plans with the local hospitals in the areas in which they would be volunteering. It was during this time that Margaret realized she wanted to directly help the people for which she was organizing care for. She wanted to be a nurse. "I saw how the medical team changed the lives of low income people. I saw how badly these people need their service," she says. So she decided to dedicate her life in their service. "Life is short," Margaret says, "helping others makes my life so much more meaningful and profound."
Wanting to inspire her son to choose a career that is meaningful to him
In addition to helping others who don't have the means to help themselves, Margaret's interest in nursing comes from wanting to inspire her son to choose a career that is meaningful to him. If she could do it at her age, she reasoned, he would have no reason not to follow his passion as well. When Margaret first started looking for a nursing school, her son was working at a pharmaceutical firm: making a great salary, but unhappy with his office job. Inspired by his mother's bold decision to switch careers, he decided to follow suit. He has since gone back to medical school, and plans on becoming a doctor.
Margaret will be continuing her healthcare education as well. She plans on working for a year as an LVN to gain hands-on experience, and then coming back to Unitek College to receiver her RN training. She wants to return to Unitek College, she says, as she has found no other nursing schools that compare.
"I worked in the business world for 25 years, so when I walk into an organization, I can tell how they operate management-wise. And Unitek College is heading in the right direction, for a number of reasons," says Margaret. Among those reasons are the management team, the instructors and their accreditation status. "Accreditation is really important," says Margaret, who first started her nursing education at an unaccredited institution which ended up cancelling her classes and forcing her to start all over again without any transferable credits. "The fact that Unitek College is accredited is huge. It confirms the school as a legitimate educational institution."
For Margaret, instructors are the most important part of an educational experience. "You can have the most advanced lab in the world, but if you aren't being taught well, it's worthless." Margaret is beyond happy with the quality of both Unitek College's SIMS labs and instructors: from their academic achievements, to their personal work experience, to their skill and passion for teaching, she appreciates the excellent faculty at Unitek College. "I have been to nationally-ranked universities and had average professors, but here at Unitek College, a vocational school, I have top-notch instructors," beams Margaret. By "investing in excellent instructors," Margaret says, "they are investing in the future of the school."
The school really bends over backwards for students.
Not only was Margaret impressed by the instructors, the rest of the faculty was supportive too. "Unitek College doesn't have to hire the best, but they do. They don't have to address every student issue, but they do. The school really bends over backwards for students." Every time Margaret had a question or concern, she knew it would be resolved, be it from the Admissions Department, the Career Services team, and the Financial Aid office. "They listen to you, they try to solve your problem, you know that they care, and they want to help you succeed."
Margaret highly encourages others interested in the allied health and nursing fields to take a tour of Unitek College and meet with an Admissions Representative. "I recommend Unitek College to anyone willing to put in the effort, and anyone who wants to change the lives of others through a career in healthcare."

* Programs vary by location
** Bakersfield campus is currently not accredited
https://www.unitekcollege.edu/wp-content/uploads/2018/01/unitek-college-grad-ready-to-make-a-difference-lvn.jpg
510
800
Unitek College
https://www.unitekcollege.edu/wp-content/uploads/2017/07/unitek-college-logo-01.svg
Unitek College
2013-09-06 06:27:35
2018-01-30 16:20:25
Unitek College Grad Ready to Make a Difference as an LVN