REGISTERED NURSE CAREER OVERVIEW
An Associate's Degree in Nursing (ADN) will build a solid foundation for your career. If you're interested in becoming a registered nurse, obtaining your ADN would be a great step in that direction. Once you have your ADN, and you've passed the NCLEX-RN license exam, you can seek entry-level employment as a registered nurse.
In our healthcare system, registered nurses play a critical role. They strive to prevent disease, educate the public, and promote good health habits. They also work tirelessly to help patients cope with their illnesses. Among their many duties, registered nurses assess and record symptoms while providing direct patient care. They also assist physicians with surgeries, treatments, and examinations, and assessments. They assist patients in convalescence and rehabilitation as well.
Perhaps most importantly, nurses provide comfort for their patients. They frequently interact with patients, and they often allay their concerns. They tend to be considerate, supportive, organized, and dependable. Because RNs wear so many hats, they are usually critical thinkers and problem-solvers. Nurses provide a truly invaluable service, and they are an irreplaceable part of any healthcare team.

Duties and responsibilities of a registered nurse
The duties and responsibilities of a registered nurse include the following: record patient medical histories, administer medications and treatments, operate and monitor medical equipment, help perform diagnostic tests, analyze the results of diagnostic tests, and collaborate with other medical professionals. They also create plans for patient care or contribute to existing plans. Additionally, they can teach patients how to manage illnesses or injuries.

Employment opportunities
Regarding employment opportunities, registered nurses are not limited to hospital settings. They can also work in schools, clinics, private homes, assisted living facilities, and more. RNs are able to specialize in several areas, such as geriatrics, family practice, and cardiac care. They can also specialize in midwifery and emergency nursing. One thing is clear: registered nurses maintain careers that are fueled by compassion.

A pre-licensure registered nursing program
At Unitek College, the Associate Degree Nursing program is a pre-licensure registered nursing program. This program seeks to prepare students for the NCLEX-RN license exam. The expected length is 112 weeks, or approximately 26 months. Graduates will gain 79.5 semester credit hours and an Associate's Degree in Nursing. There are several great benefits to this program: it can be completed in as little as 9 months (for Advanced Placement students), General Education classes are entirely online, and GE courses only allow a maximum of 20 students per class. This ensures that students have enough time and space to complete the program in a satisfactory manner.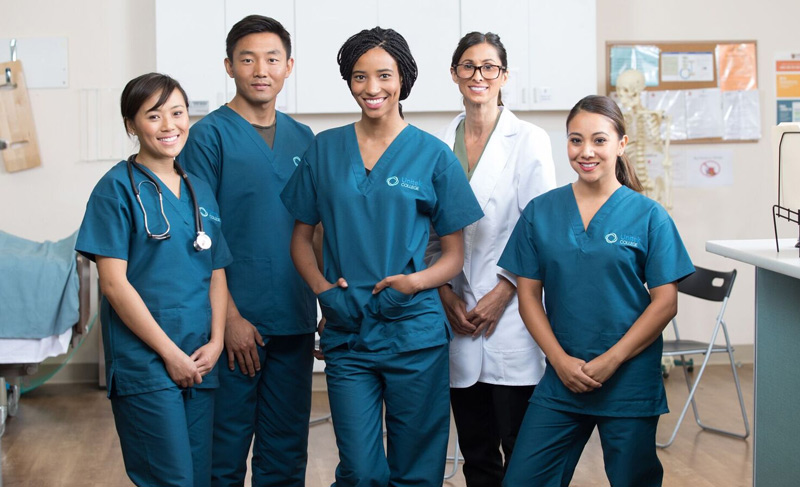 Additionally, graduates of nursing-board approved Vocational Nursing or Practical Nursing programs who have completed all required General Education courses may apply for Advanced Placement status. Doing so would allow them to skip the first 4 semesters of the program, completing the final 2 semesters in as little as 9 months. Any interested applicants are encouraged to discuss this option with our admissions team. If you want to take your career to the next level, and you'd like to achieve your goals even sooner, Unitek's ADN program is a great place to start.

Selecting an ADN program
When selecting an ADN program, it's always best to make sure the program is approved. For instance, the ADN program at Unitek College is approved by the California Board of Registered Nursing (BRN). The Board of Registered Nursing protects the health and safety of the public by ensuring the highest quality registered nurses in the state of California.
It's also important to consider your current lifestyle and your career goals. For example, if you're employed but would still like to attend school, then an ADN program with online General Education courses would be ideal. If you choose the ADN program at Unitek College, all General Education courses are completely online.

Employment opportunities for RNs are expected to grow
According to the Bureau of Labor Statistics, employment opportunities for RNs are expected to grow 15 percent by 2026.1 There are several reasons for this projected growth, including a higher demand for preventive care, increasing rates of chronic conditions, and the longer lifespans of the aging baby-boomer population. They will continue to need more care, in both their homes and healthcare facilities.
If you'd like to become a registered nurse, gaining your Associate's Degree in Nursing is a great step toward that goal. RNs are extremely valuable in the healthcare ecosystem. Their duties require intelligence, compassion, and attentive care. Their work also necessitates advanced training, which you can gain through schools like Unitek College.