A Career in Information Technology
Information Technology professionals excel at critical thinking, they thrive in fast-paced environments, and they enjoy the act of problem-solving. Generally, IT professionals assist others with troubleshooting software and hardware issues. They also handle security issues that businesses and users encounter.
In healthcare, the demand for Information Technology continues to grow. The IT program at Unitek College covers computer-system concepts, and it teaches students the skills they'll need to excel in small to mid-sized business settings. Additionally, our labs include virtual environments that simulate multiple real-world scenarios.
Job Duties & Responsibilities
The duties of an IT specialist typically depend on the company and one's job title. For example, you could work as a helpdesk technician or a computer user support specialist. These types of jobs often support companies in the following ways: they provide technical assistance, they answer computer-related questions, they oversee the performance of several computer systems, and they install equipment for employee use. You could also work as a network support technician. They are responsible for configuring security settings, examining network data, and completing network maintenance.
A Positive Career Outlook
The field of Information Technology has a great career outlook. According to the Bureau of Labor Statistics, employment opportunities for IT professionals are predicted to grow 10 percent by 2026.1 This demand is largely attributed to developing and ever-changing technology. As companies expand their computer software, they will need to hire more IT professionals to manage their IT systems.
How to Enroll at Unitek College
If you've been searching for Information Technology programs, then we encourage you to review the following steps:
Career planning session & admissions interview
Obtain proof of high school education or equivalent
Entrance exam
Unitek application
Enrollment agreement
Financial preparations
IT Program Overview
The IT program at Unitek College teaches students the fundamentals of computer technology. Courses include many topics, such as supporting and securing networks, troubleshooting hardware issues, and troubleshooting software issues. Our curriculum prepares students by pairing expert instruction with lab exercises and a supervised externship.
Some of the classes you can expect to take include the following: Repair & Support, Networking Essentials, Systems Security, Windows Server Configuration, Storage & Virtualization Basics, and the Information Technology Externship.
Classroom and Lab Environment
Our program combines classroom and laboratory space to ensure easy accessibility. This pairing also allows our instructors to closely supervise students. In the IT program, each student will have an individual computer workstation. They will receive training with lab equipment as well, which includes tool, software, and hardware systems.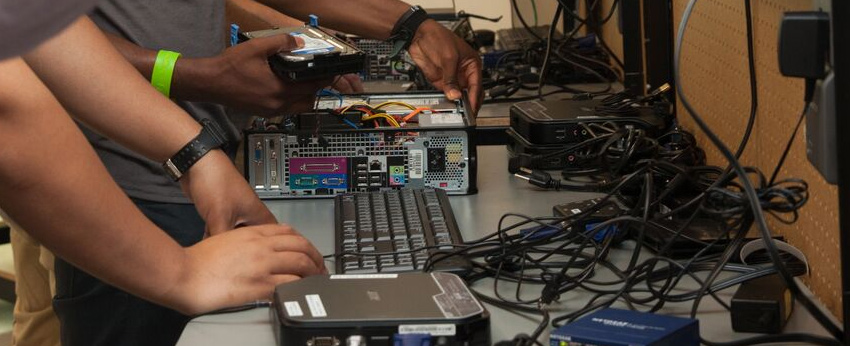 About the Sacramento Campus
Unitek College currently maintains seven locations in California. In 2006, Unitek opened a branch campus in Sacramento. Since that time, the Sacramento Campus has been recognized as a "School of Excellence" by the Accredited by Accrediting Commission of Career Schools and Colleges (ACCSC).2 Additionally, in 2014, Unitek launched the Information Technology Certification program at the Sacramento Campus.
This campus is within distance of the Capital City Freeway, and it's situated near several estates, colleges, and restaurants. In terms of space, the campus is approximately 12,136 square feet. While students have access to various classrooms and labs, they also benefit from a library, a student lounge, and several clerical areas.
If you're looking for IT schools in Sacramento, we urge you to consider Unitek's 9-month program. For more information, please visit our website or contact us at 888-518-6601.
Reach your career goals with Unitek College, today.
1 https://www.bls.gov/ooh/computer-and-information-technology/computer-support-specialists.htm
2 https://www.unitekcollege.edu/about-us/