Another look at Unitek College and the Concord Campus.
It can be difficult to visualize a new place. Allow us to take you on a brief, virtual tour of our Concord Campus. Let's start right outside of the building, a 10-story office tower in Northern California. Picture yourself heading toward the main entrance. As you approach the glass double doors, you might pause to admire the sheer height and breadth of the structure. Palm trees encircle the base of the building, and rows of windows display arctic-blue glass. Once you walk past the reflective columns, potted plants, and artful landscaping, you'll step into a lobby framed by Italian marble and warm, rich tones. Your shoes may click on the floor as you take a sharp right toward a pair of gold-embossed doors. There, Unitek College awaits!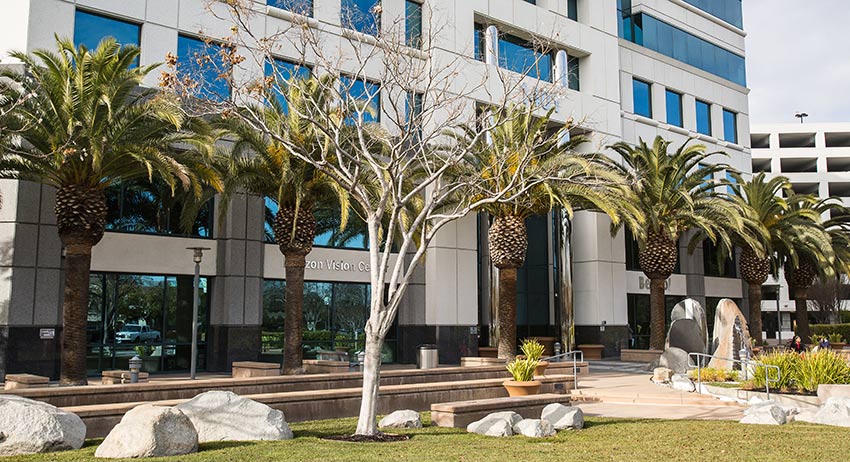 Along with several administrative offices, our Concord Campus contains 7 classrooms, 9 labs, and numerous learning resource stations. Additionally, students have access to a snazzy lounge and a café within the building. Some of the lab rooms house medical mannequins that are able to simulate real-world scenarios. For instance, some of our Unitek campuses utilize mannequins that are able to give birth, lose blood, and express pain. A portion of these mannequins can even record students through optical cameras, allowing instructors to later view and grade their performances.
Healthcare Training Programs at Concord
Currently, six programs are offered at our Concord Campus. Whether you're interested in nursing or dentistry, our programs run the gamut. Vocational Nursing or Medical Assisting are often great choices for those that like to help others. Medical Office Administrators also like to help people, but a greater emphasis is placed on administration, medical office procedures, and insurance forms. Dental Assistants possess detail-oriented natures and enjoy working with their hands. Similarly, IT professionals are detail-oriented, critical thinkers, and problem solvers.
The Pharmacy Technician program is the final program offered at Concord. Like the other five programs, it can be completed in a year or less. Enrolled students will gain vital knowledge and new skills through a combination of professional instruction, hands-on exercises, and a supervised externship.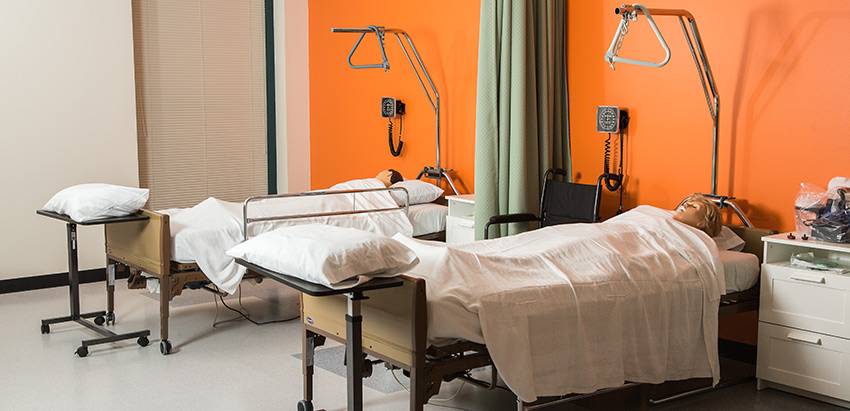 Pharmacy Tech program offered at the Concord campus
Our PT program has been programmatically accredited by the ASHP/ACPE Pharmacy Technician Accreditation Commission (a collaboration between the American Society of Health-System Pharmacists and the Accreditation Council for Pharmacy Education).1 For 75 years, ASHP has been at the forefront of efforts to improve medication use and enhance patient safety. Needless to say, we're proud to have an accredited PT program!
In the spirit of our virtual tour, let's take this opportunity to walk you through one of our programs. Specifically, we'd like to tell you more about our PT curriculum, and hopefully give you a better idea of what our students encounter in the program. After students complete all of our required courses on campus, they are then scheduled for a full-time externship. The externship can be viewed as a bridge between education and real-world settings in the healthcare field.
Some courses you can expect to take are Introduction to Pharmacy Care & Law, Drug Distribution, Pharmacology, IV Admixture, Compounding, Institutional Pharmacy, and Ethics & Communication. A portion of these classes will take place in both labs and classrooms. The labs are designed to meet industry standards and simulate retail and hospital pharmacies.
Retail lab equipment includes programmable cash registers, counting trays, prescription vials and bottles, logbooks, and shelves with simulated drug bottles. On the other hand, the hospital pharmacy lab is equipped with instruments like weighing balances, vertical laminar airflow hood, phaseal systems, hypodermic needles, syringes, and vials containing sodium chloride solutions.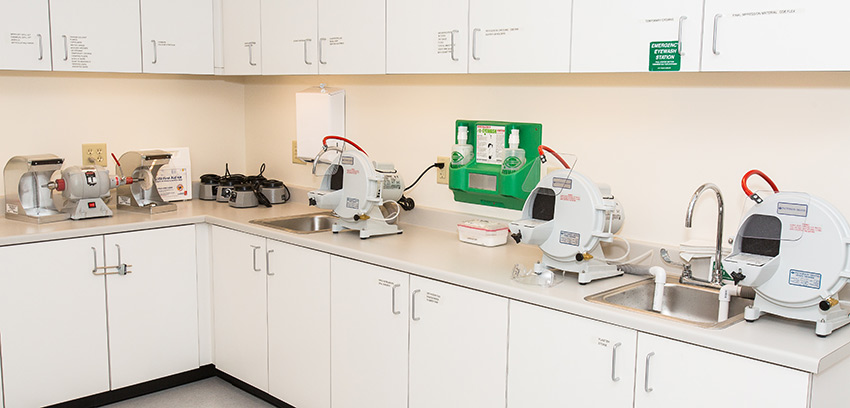 The hospital pharmacy lab may sound slightly intimidating, but we want all prospective students to keep one thing in mind: Unitek is here to help. If your goal is to become a Pharmacy Technician, we want to help you achieve that goal. Our instructors will break down all of these topics and assist students in building a new skillset.
Last but certainly not least is the pharmacy externship. Toward the end of the program, students spend at least 240 hours completing an externship in an actual pharmacy. Their performance will be graded, and their time must be verified by the supervising pharmacist. At Unitek, we believe this practical experience is critical to a student's success.
We hope this "virtual tour" has given you a better visual of our Concord Campus and all it has to offer. Today, we wanted to shed a light on the Pharmacy Technician program. No matter which program you choose, careers in technology and healthcare will only continue to grow.
For more information about our Concord Campus, please contact us toll-free at 888-919-4220.
https://www.unitekcollege.edu/wp-content/uploads/2018/04/concord-campus-labs.jpg
408
850
Unitek College
https://www.unitekcollege.edu/wp-content/uploads/2017/07/unitek-college-logo-01.svg
Unitek College
2018-04-02 17:20:43
2018-04-05 17:18:21
Life at Concord, Part 2