If you're considering a career as a Medical Assistant, you might be wondering where you should start. This profession has numerous benefits, including a certain degree of job security, exciting environments, and personal fulfillment. Additionally, most Medical Assistant programs take a year or less to complete.
At Unitek College, we understand that it can be difficult to make a career change. We've outlined the following steps to help you get started!

Do Your Research
First thing's first: familiarize yourself with a Medical Assistant's role, job duties, career outlook, etc. It's important to discern whether this career will suit your needs as well as your limitations. For instance, many Medical Assistants spend hours on their feet. If, however, you want to help others and you do not want a desk job, it's worth noting that Medical Assistants can work in a variety of environments. These include hospitals, medical offices, private homes, outpatient facilities, and surgical centers, just to name a few.
Though MA duties might vary by location and specialty, they usually include the following:
Record patient history
Measure vital signs
Assist physicians with examinations
Schedule patient appointments
Prepare blood samples for laboratory tests
Enter patient information into medical records
Give patients injections/medications as directed by physicians
Medical Assistants are currently in demand. In fact, employment of Medical Assistants is expected to grow 29 percent by 2026, a rate that is quicker than the average of most occupations.1 According to the Bureau of Labor Statistics, demand for preventive medical services will increase due to the aging baby-boomer population. Doctors will need to hire additional healthcare personnel to see a greater number of patients.

Find the Right MA Program
When searching for Medical Assistant schools, it's important to consider several factors: cost, location, and program length are three essential ones. It's equally important to consider if you can alter your schedule to meet the program's requirements. If you are short on time, Unitek's 9-month program may be a great choice for you.
During the program, students gain critical knowledge through professional lectures as well as hands-on exercises. Simulation training, lab work, and a supervised externship all serve to give our students a dynamic, well-rounded experience.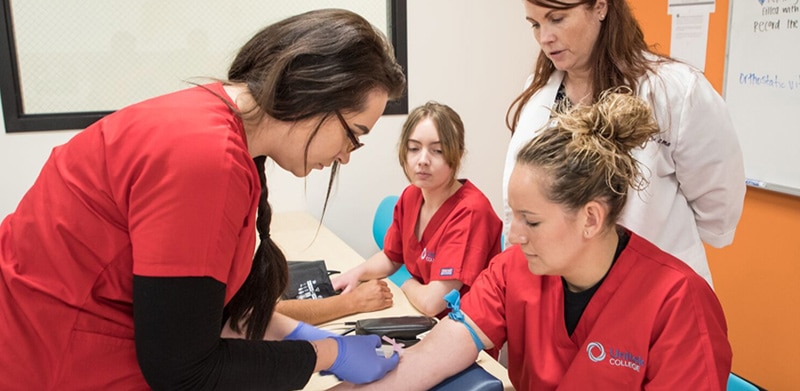 If you pick Unitek's MA program, the following are some of the courses you can expect to see: Introduction to Medical Assisting & Medical Law; Pharmacology, Medical Administration, Diagnostic Imaging; Patient Assessment, Cardio-Pulmonary, Gastroenterology; and Stages of Life: Pediatrics, Ob/Gyn, Geriatrics.

Graduate and Seek Employment
The ultimate goal of Medical Assisting programs is to prepare students for entry-level employment as Medical Assistants.here
Graduates of Unitek's program may be qualified to take several certification exams. These include the NCCT exam for the National Certified Medical Assistant (NCMA) credential and the American Medical Technologists (AMT) to earn the Registered Medical Assistant (RMA) credential. While such credentials are not a graduation requirement, they may be of value depending on your career goals. Faculty members are available to advise any student seeking these professional certifications.

About Unitek College
Unitek College is one of California's reputable healthcare and nursing colleges. Taught by field experts, Unitek programs teach the best-practice clinical technique and theory used in the field today. Our graduates are equipped with sought-after skills, and they are prepared to excel in many of the fastest-growing careers in healthcare.
Currently, Unitek maintains six campuses in Northern California and one in Southern California. All of these locations offer a comprehensive, 9-month Medical Assisting program. To speak with a representative, please choose your desired campus and find their contact information here.
Realize your dreams with Unitek College!

We Offer Medical Assisting Training Throughout California: