Why Vocational Nursing
If you want to help others, Vocational Nursing is typically seen as a very fulfilling career. Licensed Vocational Nurses (LVNs) work with physicians and registered nurses in numerous healthcare facilities. They perform countless tasks, including taking a patient's blood pressure, changing their bandages, and updating their health records.
Not only does nursing give others purpose, but it provides them with several benefits as well. When compared to other healthcare careers, one could argue that Vocational Nurses can save time and money on their education. It's also important to note that their career has a sunny outlook, one that is only expected to grow in the coming years.1 Without a doubt, Vocational Nursing is a great career.

Projected Career Growth
According to the U.S. Bureau of Labor Statistics, employment opportunities for Vocational Nurses are expected to grow 12 percent by 2026.1 This surge can mostly be attributed to the baby-boomer population, as they are retiring and will need more medical services. To see as many patients as possible, physicians and healthcare facilities will likely hire more nurses.

Program Overview at Unitek College
Unitek College's Vocational Nursing program is intensive and well rounded. Although students gain critical knowledge and a new skillset, the VN program can still be completed in as little as 11 months. If night classes are better suited to your schedule, Unitek also offers an evening program that usually takes 16 months to complete. Students in our VN program learn through a combination of expert lectures, simulation training, and hands-on exercises.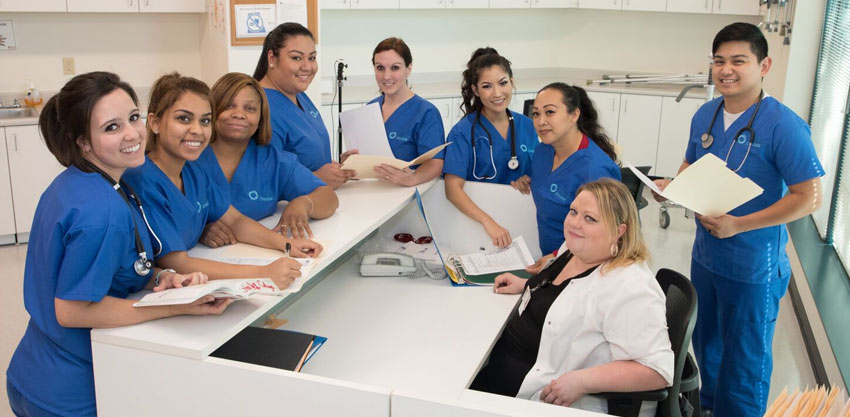 Graduates of the VN program will be capable of performing a variety of tasks. For instance, successful graduates will know how to assess patients, record medical histories, and notate any adverse reactions to medication. In some states, LVNs are allowed to distribute prescribed medications and start intravenous fluids.

Primary Educational Objectives
Our program seeks to prepare students for the NCLEX-PN license exam. Those that pass can search for entry-level employment as Licensed Vocational Nurses. Graduates will be capable of managing numerous tasks, including but not limited to the following:
Collaborate successfully with clients, families, and community resources to provide holistic care.
Assist in the formulation of a systematic problem-solving approach to deliver basic nursing care to clients and implement approaches within ethical-legal limitations.
Establish accountability for practice, promote the practice of vocational nursing, and participate in health promotion.

The Learning Environment
In our classrooms, VN students will find individual desks, whiteboards, and a projector. Lab rooms are equipped with patient care stations that can simulate actual hospital settings. Additionally, each lab contains IV poles, enteral feeding pumps, blood pressure cuffs, scales, adult and pediatric mannequins, and equipment to practice routine nursing procedures.

Consider Enrolling at Unitek College
If you'd like to enroll at our South San Francisco Campus, please carefully consider the following requirements:
Career development session
Admissions interview
Assessment exam
General application
Enrollment agreement
Financing arrangements

The South San Francisco Campus
Situated near the Junipero Serra Freeway, the South San Francisco Campus is in a location that is both convenient and accessible. Nearby establishments include Costco, Trader Joe's, and Kaiser Permanente.
The campus occupies more than 7,000 square feet. While on campus, students can utilize multiple classrooms, skills labs, and computer centers. They also have access to a library and a student lounge along with admissions, financial aid, and administrative offices. If you're searching for Medical Assistant programs in South San Francisco, please contact us toll free at 855-811-6191.
Pursue your dreams with Unitek College.
1 https://www.bls.gov/ooh/healthcare/licensed-practical-and-licensed-vocational-nurses.htm