Advance Your Career with Unitek College
The healthcare industry is full of opportunities. Many healthcare careers are in high demand, and they usually promise a certain degree of stability and longevity. They also offer something that other careers might not: contentment. Because careers in the healthcare field are often very meaningful, they give healthcare workers job satisfaction and a sense of fulfillment.
One popular career choice is Vocational Nursing. If you enjoy helping others, and you don't want to spend years in school, then Unitek's Vocational Nursing program might be a great choice for you. Among their many duties, nurses promote good health habits, act as advocates for their patients, and provide critical support to the healthcare team.

Growth in Vocational Nursing
Employment for Licensed Vocational Nurses is projected to grow 12 percent by 2026.1 With the baby-boomer population aging and lifespans increasing, the need for general medical services is also expected to increase. This will result in a greater need for nursing staff in countless healthcare facilities.

A Convenient Timeline
Our Vocational Nursing program is offered at every Unitek campus. Even though the curriculum is diverse and extensive, our program can be completed in as little as 12 months. We understand that it can be difficult to pursue a new, satisfying career when you have various time constraints.
Unitek's program equips students with the knowledge they'll need to take the licensure exam. This is accomplished through a combination of expert instruction, applied training, lab work, and academic support.

The Basic Enrollment Process
If you're interested in our Hayward Campus, please review our general enrollment process:
Career development meeting
Admissions interview
Assessment exam
Unitek application
Enrollment agreement
Complete any financing arrangements

A Well-Rounded Curriculum
In our Vocational Nursing program, students will benefit from more than 900 hours of practical training in labs, simulations, and other healthcare facilities. Additionally, they will receive in-class instruction taught by current experts in the field. At Unitek, students will gain the support and confidence needed to excel in the healthcare system.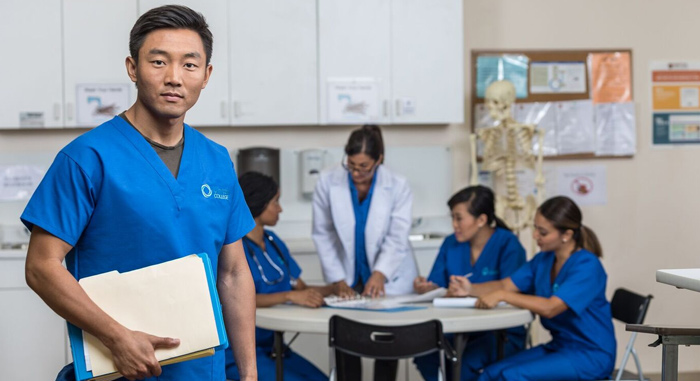 Our career-driven curriculum teaches students how to examine patients. They'll also learn how to interact with patients, record medical histories, and note any adverse reactions to medication. In some states, including California, LVNs are allowed to distribute prescribed medications and manage intravenous fluids.

About the Hayward Campus
The Hayward Campus is located near Interstate 880 and the Hayward Executive Airport. The campus is situated along Hesperian Boulevard, and it has Home Depot and Target within its sight. Other nearby establishments include Costco, Southland Mall, and Winton Plaza. Burbank and Santa Clara are also nearby.
In terms of space, the campus is approximately 13,181 square feet. It has several lecture rooms, labs, and a learning resource room. There is a student lounge as well, and administrative staff areas that are easily accessible. Additionally, all of the programs at the Hayward Campus can be completed in a year or less. The Vocational Nursing program may be a great choice for you, as it often leads to a stable and rewarding career in healthcare.
If you'd like to find Vocational Nursing programs in Hayward, please contact us toll free at 855-808-2732.
Take the first step with Unitek College, today.
1 https://www.bls.gov/ooh/healthcare/licensed-practical-and-licensed-vocational-nurses.htm