Have you ever wondered what it's like to be a Medical Assistant? Generally speaking, they perform both clinical and administrative duties, filling a dynamic role on the healthcare team. Plus, they work with a variety of people: physicians, nurses, insurance providers, patients, and families of patients, just to name a few!
Today, we're going to look at an interview with Medical Assistant Ashlee Laatsch, who answers questions for Penn Live about her promising career as an MA. With five years in the field, her experience and insight is certainly valuable. Read on with us and learn more about Medical Assisting…
1. What does a Medical Assistant do?
Laatsch: "The responsibilities of a Medical Assistant can vary from office to office and consist of administrative and clinical duties. Administrative duties include greeting patients, answering phones, checking patients in and out and processing patients' medical records. Clinical duties consist of taking medical histories, obtaining vital signs, drawing blood, collecting lab specimens, taking electrocardiograms, changing dressings and assisting physicians with exams/procedures.
In the Patient First environment, I have the unique opportunity to work closely with many different healthcare professionals, including physicians, physician assistants, nurses, X-ray technologists and laboratory technologists. Additionally, succeeding in my job has allowed me to advance in the company and become a treatment area trainer."
2. What type of training do you need?
Laatsch: "One way to become a Medical Assistant is to earn a certified Medical Assistant certificate from a technical school. Depending on the environment, a certified nursing assistant may also work as a Medical Assistant.
Many community colleges also offer certificate and associate degree programs in this field. The main difference between a certification and an associate degree is that it may take a little longer to earn an associate degree—usually around two years—because it requires more general education classes."
3. Why did you decide to become a Medical Assistant?
Laatsch: "I decided to become a Medical Assistant because I enjoy taking care of and helping others. I grew up around family members working in the healthcare field, and I always knew it was my passion as well.
It is also a great entry point into the medical field, as you have the opportunity to work with a variety of medical professionals and learn about what they do. Such knowledge is helpful if you decide on another career path within the medical field."
4. What is one of the biggest challenges of your job?
Laatsch: "One of my biggest challenges is seeing children ill. I never like seeing anyone ill, but it is always a little more heartbreaking when it's a child. I do take comfort in the fact that I am here to help them get better and put smiles back on their faces."
5. What do you think someone considering the career should know?
Laatsch: "You can learn the skills required to be a good Medical Assistant, but having the right personality is very important.
As a Medical Assistant, you need to be patient and open-minded, as you interact with people with different personalities. Many people aren't at their best when they are sick or injured, and this can be difficult at times. You need to be professional at all times and give each patient the same high level of care.
You must also be able to function well in a fast-paced environment and be able to think quickly on your feet. It is a very rewarding job and is a great fit for someone who has a calling to help others."
Medical Assistant Training at Unitek College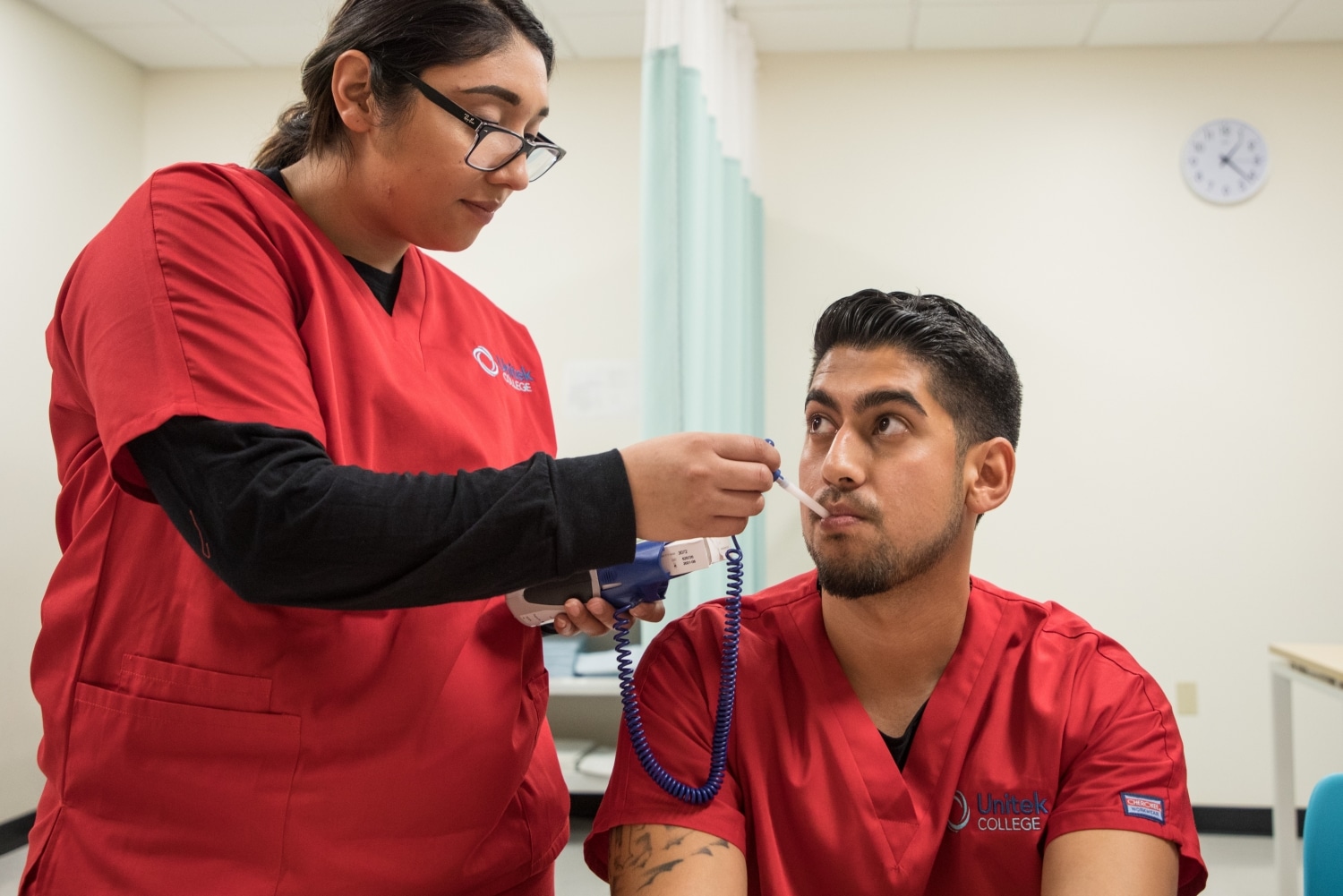 Are you interested in Medical Assisting? Unitek offers a comprehensive Medical Assistant program, one that provides a solid foundation for aspiring healthcare professionals. It equips students with the skills and experience they'll need to excel as a Medical Assistant. The curriculum emphasizes administrative and clinical skills, and includes extensive instruction in the following:
+ Medical terminology
+ Medical office procedures
+ Medical and clinical procedures
+ Basic anatomy and physiology
+ Special duties common in the field
Throughout the program, Unitek's Medical Assistant courses focus on communication, professionalism, problem solving, patient-centered teamwork, and maintaining OSHA and HIPAA guidelines. If you're considering school to become a Medical Assistant, you would have a great opportunity to advance your career at Unitek College.
More About Unitek College
Founded in 2002, Unitek College is an accredited, private institution that provides training for the next generation of healthcare professionals. With seven campuses in California, Unitek offers educational programs in the cities of Bakersfield, Concord, Fremont, Hayward, Sacramento, San Jose, and South San Francisco. All of these locations offer an MA program that can be completed in under a year's time.
If you'd like more information to start your own career in healthcare, Unitek College can help make that dream a reality. Contact us today to learn more about our nursing and Medical Assisting programs.
https://www.unitekcollege.edu/wp-content/uploads/2019/04/What-It's-Like-to-Work-as-a-Medical-Assistant.jpg
957
1500
Unitek College
https://www.unitekcollege.edu/wp-content/uploads/2017/07/unitek-college-logo-01.svg
Unitek College
2019-04-10 05:15:49
2019-04-01 13:47:48
What It's Like to Work as a Medical Assistant