If you're compassionate, analytical, and detail-oriented, then Medical Assisting might be a great career for you! Not only is there a certain degree of job security—healthcare careers are usually a necessity for every community—but there is also the nature of the job itself, which many Medical Assistants tend to see as rewarding work.
Now, you might be wondering, is Medical Assistant a degree? Or more specifically, what is required to become a Medical Assistant? These are great questions, and the answer can depend on your location as well as your career goals. Generally speaking, you do not need certification to practice in the field. Additionally, a formal education isn't always required. It is often highly recommended, though, as some employers will only hire candidates who already possess the knowledge and skills of a Medical Assistant.
One of the first decisions you'll need to make revolves around your educational needs. Ask yourself this: Would you like to earn a Medical Assistant degree or a diploma/certificate?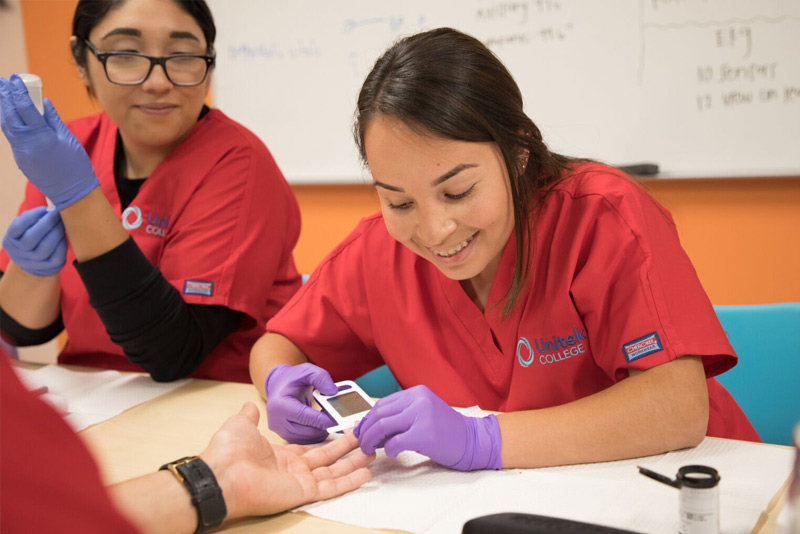 Associate's Degree in Medical Assisting
If you'd like to build on your education in the future, then an associate's degree might be a solid option for you. According to an article by All Allied Health Schools, you can typically earn a Medical Assistant degree from a community college or a four-year college. The duration of these degree programs is often between 18 to 24 months.
All Allied Health Schools provides a brief overview for what these programs might look like: "In addition to healthcare classes, an associate's degree program will include general education courses which will help strengthen your writing and math skills. They also provide you with a more well-rounded perspective."
Though it depends on the program you choose, you may also need to complete a supervised externship. Of course, some diploma programs will also give you opportunities to gain real-world experience!
Medical Assistant Diploma Program
If you don't want to spend years in school, then a diploma program might be the ideal choice. It can also enhance the skillset of someone who already works in healthcare and wants to create new opportunities for their future. Unlike a degree program, your coursework will not usually include general education courses.
The curriculum of such programs tends to focus on Medical Assistant tasks. This is why they typically take much less time to complete. For instance, diploma programs can often be completed in a year or less. If time is a concern, Unitek College offers Medical Assistant training that can be completed in as little as 9 months!
Here's what All Allied Health Schools has to say about diploma/certificate programs: "A medical assistant certificate, which is offered at career colleges, will include many of the same courses as an associate's degree program. You can expect to learn about medical terminology, office management, and medical law and ethics."
Job Tasks and Responsibilities
Whether you choose a degree or diploma program, rest assured that you'll be learning skills for a valuable profession. To give you a better idea of what these skills might entail, we've compiled a list of them below! The job duties of a Medical Assistant can vary by location or specialty, but they typically include some of the following functions:
Administrative duties
+ Answer telephones
+ Schedule appointments
+ Greet patients
+ Update and file patient charts
+ Order supplies
+ Arrange for hospital admission and laboratory services
+ Handle billing, collections, and bookkeeping
Clinical duties
+ Take medical histories and record vital signs
+ Prepare patients for examination and assist physicians during examinations
+ Telephone prescriptions to a pharmacy
+ Collect and prepare laboratory specimens
+ Sterilize medical instruments
+ Prep patients for X-rays
+ Take electrocardiograms
+ Remove sutures and change bandages
An Overview of Unitek College
Founded in 2002, Unitek College is an accredited, private institution that combines unique academic and technical specialties to provide excellent training programs in healthcare and nursing. With seven campuses in California, they offer educational programs in the cities of Fremont, San Jose, Hayward, Concord, South San Francisco, Sacramento, and Bakersfield.
All of these locations offer a Medical Assistant program that educates students in a dynamic learning environment. Ultimately, Unitek seeks to prepare students for entry-level employment as Medical Assistants. Above all else, they strive to be accessible and inclusive, and they are eager to help others take charge of their future.
If you'd like more information about Unitek's Medical Assistant program, please review their locations and contact one of them.
Realize your dreams with Unitek!
https://www.unitekcollege.edu/wp-content/uploads/2018/02/medical-assistant-programs-san-francisco.jpg
534
800
Alyssa Jordan
https://www.unitekcollege.edu/wp-content/uploads/2017/07/unitek-college-logo-01.svg
Alyssa Jordan
2018-11-08 05:15:20
2018-11-02 19:12:47
Degrees or Diplomas for Medical Assisting