If you're wondering what a Medical Assistant does, it might be easier to list what they don't do! Overall, their primary goal is to make life easier for everyone around them: patients, physicians, nurses, and other members of the healthcare team. They typically promote positive attitudes while assisting physicians and interacting with patients. More often than not, Medical Assistants are the first and last face a patient will see during their visit.

Job Responsibilities of a Medical Assistant
Though MA duties can vary by location and specialty, they tend to include the following administrative and clinical functions.
Administrative duties:
Answer telephones
Schedule appointments
Greet patients
Update and file patient charts
Order supplies
Arrange for hospital admission and laboratory services
Handle billing, collections, and bookkeeping
Clinical duties:
Take medical histories and record vital signs
Prepare patients for examination and assist physicians during examinations
Telephone prescriptions to a pharmacy
Collect and prepare laboratory specimens
Sterilize medical instruments
Prep patients for X-rays
Take electrocardiograms
Remove sutures and change bandages
It's important to note that Medical Assistants are not physician assistants. They cannot examine, diagnose, or treat patients under the supervision of a physician.

Where Medical Assistants Work
There are so many benefits in the Medical Assisting field. Not only will you be exposed to various specialties and personnel, but you will also have the opportunity to work in varied environments. One could argue that a career in Medical Assisting is an excellent way to gain experience in the healthcare industry. While some certainly choose Medical Assisting as a lifelong career, others use it as a stepping stone to other paths.
For a better idea of where Medical Assistants work, here are just a few places they typically find employment:
Physician offices
Private healthcare facilities
Industrial firms requiring healthcare personnel
Hospitals
Hospital clinics
Laboratories
Health industry providers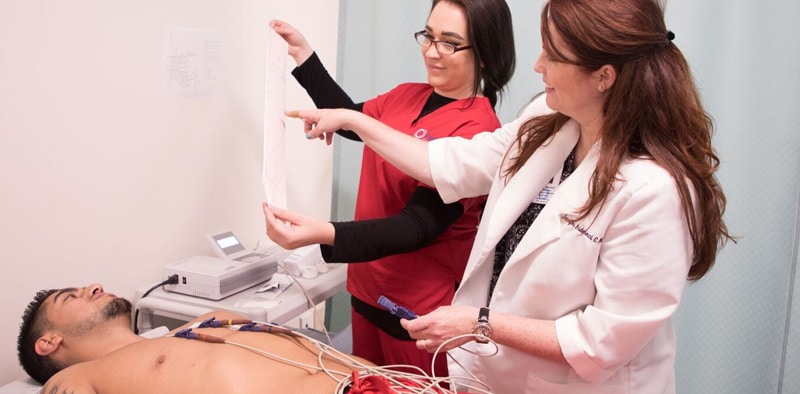 Unitek's Medical Assistant Program
When you compare and contrast Medical Assistant schools, it's important to consider as many factors as possible to pick the best institution for you. You can increase your odds of finding the right school by looking at things like cost, location, MA program length, personal goals, and scheduling limitations. For instance, if you're short on time, you'll want to find a program with a speedy timetable. At Unitek, our Medical Assisting program can be completed in as little as 9 months.
During the course of the program, students will learn through a combination of expert lectures, lab work, and simulation training. They will also partake in a supervised externship, one that will balance their classroom learning with real-world experience. In addition, the externship will give students the opportunity to network and strengthen new connections.
To give you a better idea of what to expect at Unitek, the following are some courses our MA students can expect to take: Introduction to Medical Assisting and Medical Law; Pharmacology, Medical Administration, Diagnostic Imaging; Patient Assessment, Cardio-Pulmonary, Gastroenterology; and Stages of Life: Pediatrics, Ob/Gyn, Geriatrics.
Unitek College strives to be accessible and inclusive, and we are proud of the success stories we help produce. Presently, we maintain numerous campuses in the state of California. All of our locations offer an intensive, 9-month program for Medical Assistants. If you'd like to learn more about us, please review our locations and contact your desired campus.
After all, you can now answer this question: what does a Medical Assistant do? Ultimately, they do a great deal for their patients, their colleagues, and their community.

We Offer Medical Assisting Training Throughout California: