DENTAL ASSISTANT CAREER OVERVIEW
Dental Assisting is a solid career in the healthcare field. Dental Assistants typically have great interpersonal skills, and they prefer to work with their hands rather than at a desk. They also have an eye for details, they maintain impressive dexterity, and they support dentists while patients are examined and treated.
Dental Assistants play a bigger role than you might think
Generally, they have various duties and responsibilities in the workplace. These usually include the following: prepare patients for procedures, sterilize dental instruments, retrieve instruments for dentists during procedures, and assist with oral surgeries when the occasion calls for it. Additionally, they often make dental impressions, install fixed prosthodontics, and teach patients proper oral hygiene. Dental Assistants have several administrative tasks as well. These typically include maintaining inventory for dental practices, scheduling appointments for patients, and communicating with patients for billing and payment purposes.
Under the direction of a dentist, Dental Assistants can process dental X-rays and complete several lab tasks. In California, Dental Assistants are permitted to perform the following procedures: coronal polishing, sealant application, fluoride application, and topical anesthetic application. Coronal polishing involves the removal of soft deposits, such as plaque, and giving teeth a cleaner look. Sealant and fluoride applications are both anti-cavity measures. Topical anesthetic application is applied to a patient's mouth, effectively numbing them before certain dental procedures.
Have you ever looked up "how to become a Dental Assistant?"
People typically enroll in programs that take about a year to complete, which makes this profession both convenient and attainable. At Unitek College, we offer a Dental Assisting program with a career-driven curriculum. Our 10-month program provides the skills, experience, and knowledge that students will need to excel in the field. Classes cover various aspects of Dental Assisting, including topics like infection control, handling medical emergencies, dental X-rays, and the use of dental instruments.
Our curriculum also includes oral evacuation and pharmacology. Additionally, students will learn about prosthodontics, preventive dentistry, and assisting with oral surgery. Unitek accomplishes this through a combination of professional instruction, training exercises, and a 200-hour supervised externship. The Dental Assisting program at Unitek College is currently offered at three of our campuses. It is also approved by the Dental Board of California for Registered Dental Assistant Applicants.
In search of Dental Assistant programs
When searching for Dental Assistant programs, it's important to consider whether you would like to attend an RDA-approved Dental Assisting program. In California, Dental Assistants are not required to become Registered Dental Assistants in order to find employment. However, it's worth noting that Registered Dental Assistants are allowed to perform more direct patient procedures. This, in turn, allows dentists to see more patients on a daily basis, improving the general performance of their practice.
It's also worth noting that graduates of an RDA-approved Dental Assisting program have the quickest route to meeting the requirements to take the licensure exam. The DA program at Unitek College falls under this category, as it is a Board-approved RDA educational program with a minimum of 800 hours.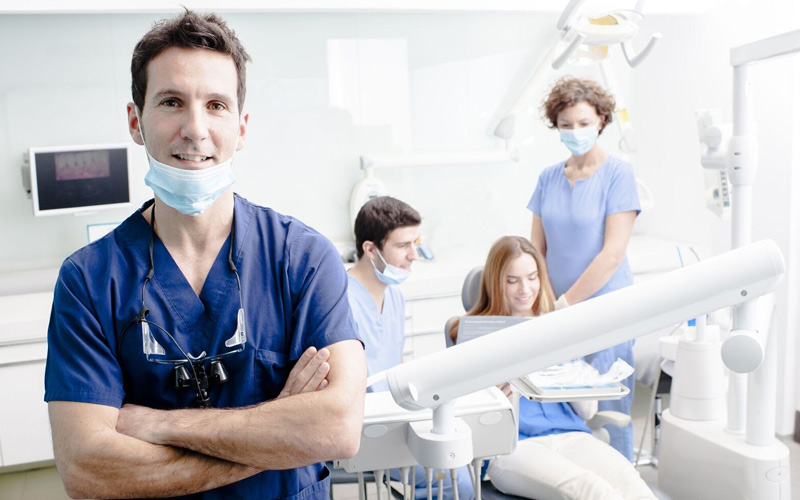 Dental Assistant employment is expected to grow
Employment for Dental Assistants is expected to grow 19 percent by 2026.1 According to the Bureau of Labor Statistics, ongoing research has connected oral health and general health. This will likely cause the demand for preventive dental services to increase, which will in turn cause dentists to hire more assistants. The Bureau of Labor Statistics also labels the following as important qualities for Dental Assistants: a detail-oriented nature, good dexterity, exceptional interpersonal skills, listening skills, and organizational skills.1 In other words, it's vital that Dental Assistants enjoy working with their hands as much as they enjoy working with patients. It's also critical that they stay on task and manage their time well.
Dental Assistants play an important role in dentistry
They not only support dentists on a daily basis, but their actions support the general wellbeing of their communities. Essentially, Dental Assistants are a dentist's extra hands. If you're interested in this profession, you can look into receiving Dental Assistant training at Unitek College.