The Importance of Dental Assistants
Dental Assistants balance a number of high-priority responsibilities that benefit patients, dentists, and other members of dental practice teams. Both their clinical knowledge and their communication skills make them great assets in the field. If you enjoy active work and interacting with others, then Dental Assisting might be a good career choice for you.
Some of their responsibilities include preparing patients for procedures, disinfecting dental instruments, making dental impressions, installing fixed prosthodontics, and providing support during oral surgeries. Additionally, Dental Assistants can take dental X-rays, schedule appointments, and instruct patients on proper oral hygiene.
Great Career Growth
The field of dental hygiene is continuously growing. According to the Bureau of Labor Statistics, employment of Dental Assistants is projected to increase 19 percent by 2026.1 This growth is considerably faster than the average of other occupations. In 2016 alone, Dental Assistants held 332,000 jobs.
As a career, Dental Assisting promises a certain degree of stability. People will always need dental services to maintain their health.
Enrolling at Unitek College
If you're looking for Dental Assistant training in Sacramento, we encourage you to read Unitek's enrollment requirements.
Career planning session & admissions interview
Submit proof of high school education/equivalent
Assessment test
Admissions application
Enrollment agreement
Financial preparations
About the Dental Assisting Program
The DA program at Unitek College prepares students for entry-level employment as Dental Assistants. In as little as 10 months, students will gain vital knowledge about infection control, sterilization techniques, medical emergencies, dental X-rays, dental instruments, and more.
Our program utilizes several learning techniques, such as simulation training and a supervised externship. As a student, you can expect to take courses like the following: Dental Terminology and Proper Asepsis Techniques, Dental Materials and Prevention, Dental Radiology, Dental Practice Management, and Clinical and Lab Duties.
Educational Objectives & Corresponding Occupations
Graduates of Unitek's DA program will be prepared for entry-level employment as Dental Assistants. They will be able to work in dental offices, clinics, or lab environments. Additionally, they will be capable of using current, industry standard dental software. Graduates will also possess the knowledge required to work with digital dental technology.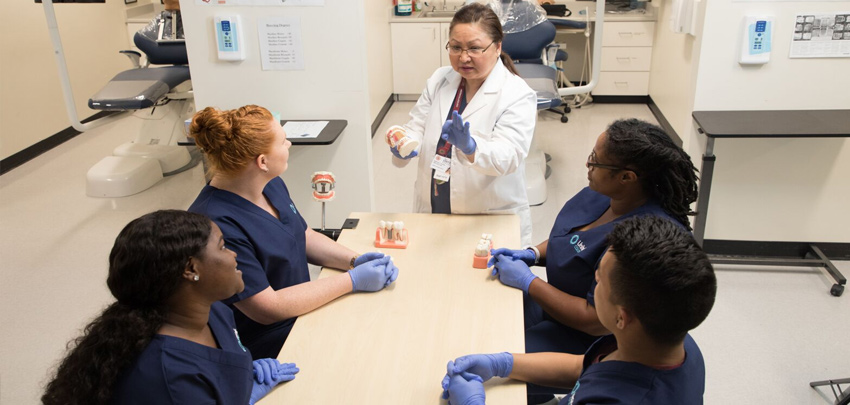 Unitek College, Sacramento Campus
In 2006, Unitek College opened a campus in Sacramento, California. Several milestones later, the Sacramento Campus was recognized as a "School of Excellence" by the Accredited by Accrediting Commission of Career Schools and Colleges (ACCSC).2 In 2015, the Dental Assisting program was launched at the Sacramento Campus.
Located near Commerce Gardens and the American River, the Sacramento Campus is also within distance of the Capital City Freeway. It's surrounded by various estates, colleges, and restaurants. At our campus, students have access to classrooms, labs, a library, a student lounge, and several clerical areas.
If you're looking for Dental Assistant programs in Sacramento, please visit our website or contact us at 888-518-6601.
1 https://www.bls.gov/ooh/healthcare/dental-assistants.htm
2 https://www.unitekcollege.edu/about-us/