Medical Office Administration Program
Unitek provides students with the knowledge and skillset they'll need to succeed as a Medical Office Administrator. If you excel at organization, time management, and communication, then this could be a fantastic career choice for you. Medical Office Specialists are often compassionate, and they enjoy interacting with people as much as they do with numbers.
Career Information
Medical Office Administrators wear many hats and play an essential role in healthcare. Their duties usually include the following: managing medical records, creating electronic health records, processing insurance claims, completing accounting responsibilities, and handling other administrative tasks. Medical Office Administrators often work at hospitals, clinics, and laboratories. They also work at private offices or healthcare facilities.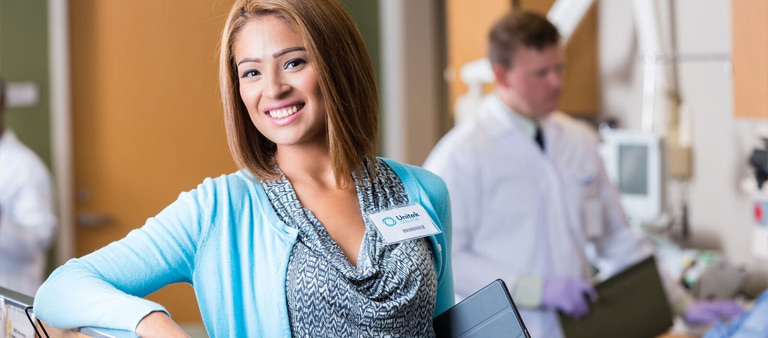 A Growing Demand
Employment in the field of Medical Office Administration is projected to grow 13 percent by 2026.1 According to the Bureau of Labor Statistics, demand for Medical Office Administrators is expected to increase due to the rise of preventive medical services. As with Medical Assistants, doctors will need to hire more Medical Office Administrators to assist them and help maintain their offices.
Enrollment Requirements
Welcome to Unitek! If you're interested in our Medical Office Administration program, please review the steps that must be taken to enroll:
Meet for career planning
Complete an admissions interview
Submit proof of high school education/equivalent
Assessment exam
Admissions application
Enrollment agreement
Fremont MOA Program Overview
Students will gain Medical Office Administration training through this eight-course program. Altogether, these courses cover a myriad of topics, such as the basics of healthcare, medical terminology, medical office procedures, and patient interaction. Insurance forms and laws/regulations are covered as well. Unitek's Medical Office Administration program teaches students how to provide excellent patient administration. The program only lasts for 9 months, which makes it both efficient and convenient.
Regarding a Medical Office Administration certificate, graduates may be eligible to take several certification exams. These include the Electronic Health Records Specialist exam, the Certified Medical Administrative Assistant exam, and the Medical Billing and Coding Specialist exam. Such credentials are not required to graduate but can be of value depending on the student's particular career goals.
Why Unitek
Unitek provides a roster of multifaceted curriculums, bustling locations, and seemingly endless opportunities. In 2002, Unitek College began offering healthcare education in Fremont, California. Now Unitek has seven convenient locations in California. Our career services and financial aid teams are eager to assist any prospective students.
In healthcare settings, Medical Office Administrators are often the first line of defense. They interact with most major groups, from patients and their families to insurance representatives. Unitek's Medical Office Administration program is a great step toward gaining a rewarding career in healthcare. If you have been looking for Medical Office Administration programs in Fremont, please visit our website or reach out to us at 888-775-1514.
1 https://www.bls.gov/ooh/healthcare/medical-records-and-health-information-technicians.htm