Unitek's program seeks to prepare students for a successful career as a Medical Assistant. We aim to do so by providing students with a solid foundation of support, skills, and experience. The medical assisting courses focus on both clinical and administrative training, as extensive knowledge in these areas is vital for one to succeed in the field.

Basic Career Overview
Medical Assistant duties and responsibilities involve medical terminology, medical office procedures, clinical procedures, basic anatomy, and more. Specifically, Medical Assistants can be responsible for updating patient medical records, filling out insurance forms, and scheduling appointments. They can also be tasked with scheduling hospital and laboratory services. Some states allow Medical Assistants to give injections or prepare patients for X-rays if they have passed the necessary courses.

Medical Assisting Career Outlook
Employment in this field is expected to grow 29 percent by 2026.1 The Bureau of Labor Statistics has relayed that demand for Medical Assistants will likely increase due to the aging baby-boomer population. In order to see a greater number of patients, doctors will need to hire more medical professionals to assist with both clinical and administrative tasks.

Enrollment Checklist
The Fremont Campus offers a Medical Assistant program in the Bay Area. We urge you to consider our MA program and carefully review the following steps:
Career review session & admissions interview
Send proof of high school education/equivalent
Assessment test
General application
Enrollment agreement
Financial arrangements

Fremont Medical Assisting Program Overview
In this program, students will receive in-class instruction, simulation training, and 160 hours of fieldwork experience through a supervised externship. The Medical Assisting courses emphasize communication, professional behavior, and teamwork. Students will also learn how to maintain OSHA and HIPAA guidelines—all of this knowledge can be gained in just 9 months. At Unitek College, we proudly offer a well-rounded school for those who want to become Medical Assistants.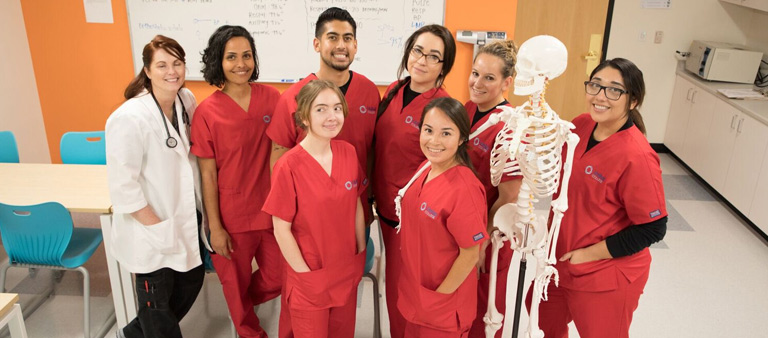 Graduates of the program may be qualified to take several certification exams. Such exams include the NCCT exam for the National Certified Medical Assistant (NCMA) credential and the American Medical Technologists (AMT) to gain the Registered Medical Assistant (RMA) credential. A Medical Assistant certification in California is not a graduation requirement, but may be of value depending on your career goals. Faculty are available to advise any student seeking these professional certifications.

Current Student Services
At the Fremont Campus, you'll find many helpful locations. These include a student lounge, a library, accessible administrative offices, and career services. If you need financial assistance, please contact one of our representatives, they are happy to help.

Why You Should Join Unitek
Unitek maintains a host of promising curriculums, opportune locations, and numerous opportunities. Our career services and financial aid teams are always eager to assist prospective students. Whether you're hoping to find your dream job or work that is simply meaningful, Unitek offers several programs that often lead to stable and rewarding careers. Medical Assistants are critical to the success of offices, clinics, and laboratories, and completing Unitek's Medical Assisting program is a great step toward gaining employment in the healthcare field.
If you have been looking for Medical Assistant training in Fremont, please visit our website or contact us toll free at 888-775-1514.