About Medical Office Administration
Medical Office Administrators, also known as medical secretaries, perform various clerical and administrative tasks for medical offices, insurance companies, and other healthcare facilities. At our Concord Campus, we offer a Medical Office Administration program that prepares students for work in the field. Duties and responsibilities typically include processing medical records, handling insurance claims, various accounting responsibilities, and other supportive tasks.
Frequently Asked Questions
If you're interested in Medical Office Administration training, you may find some of the below answers helpful.
Q: Why should I choose Medical Office Administration as a career?
A: Like Medical Assisting, Medical Office Administration is on the rise. Medical Office Administrators have the administrative and support skills to flourish in many medical environments. They assist with office management, and they play a vital role in healthcare. This career is often a stable, rewarding one.
Q: What courses are required for Medical Office Administration?
A: Again, it depends on the program and the college. Unitek's program covers a wide range of topics, including but not limited to the following: medical terminology, medical office procedures, regulations for patient medical records, and basic knowledge of healthcare.
Positive Career Outlook
Employment for Medical Office Administrators is expected to grow 13 percent by 2026.1 According to the Bureau of Labor Statistics, this increasing demand is largely due to the rise of preventive medical services. Doctors will need to hire more Medical Office Administrators to assist them and help maintain their offices.
A Career-Driven Program
Students will receive Medical Office Administration training through Unitek's eight-course program. Over a period of 9 months, students will learn how to provide exceptional patient administration. Regarding certification, graduates may be eligible to take several certification exams. These include the Electronic Health Records Specialist exam, the Certified Medical Administrative Assistant exam, and the Medical Billing and Coding Specialist exam. Such credentials are not required to graduate but can be of value depending on the student's particular career goals.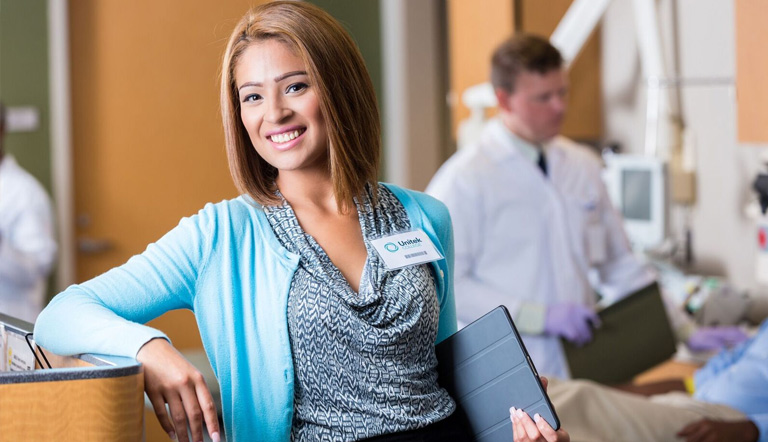 The Enrollment Process
If you think our program might be right for you, please review the steps that must be taken to enroll:
Meet for career planning
Complete the admissions interview
Send proof of high school education or equivalent
Take the assessment exam
Fill out an admissions application
Complete the enrollment agreement
The Concord Campus
Our Concord Campus maintains a roster of programs in the healthcare field. These programs include Medical Assisting, Medical Office Administration, Dental Assisting, Pharmacy Technician, Vocational Nursing, and Information Technology. The Concord Campus also maintains several locations for student use, such as a student lounge and a café. There are various learning resource stations as well. Additionally, if you need any financial assistance, our representatives are available and happy to help. Please click here to find their contact information.
In healthcare facilities, Medical Office Administrators are often the first line of defense. They interact with patients, family members, insurance representatives, and more. The Medical Office Administration program at Unitek College is a great step toward a rewarding career in healthcare. If you would like more information about our program, please contact us at 888-919-4220.
1 https://www.bls.gov/ooh/healthcare/medical-records-and-health-information-technicians.htm