How to draw blood from a patient's vein as painlessly as possible
If you're new to the medical field, you might be wondering: Just what is venipuncture used for? In medicine, venipuncture is the process of drawing blood from a vein. This is an excellent skill that most nurses or aspiring nurses should consider learning for their career. It's essential for a number of diagnoses, tests, and procedures. Think about it: Without proper specimens, or the right diagnosis, the potential for harmful medical treatment practically skyrockets.
Of course, it's best for students to watch licensed nurses perform this procedure. It is also important that they study the topic and do their due diligence. In the meantime, though, you can get a better idea of the process by reading this post. Last year, we gave you tips on how to "stick like a pro." For newer readers, we're going back to basics. Break down the venipuncture process with us!
Tips to Know Beforehand
As BSN-trained nurse Kathleen Colduvell says in her how-to article, venipuncture isn't something that can be learned from study alone. Watching videos or reading guides like these are great, but remember to practice in a controlled environment with trained professionals. If you're already in the healthcare field, try speaking with your supervisor to learn the steps for certification. Some healthcare systems have their own requirements for nurses performing blood draws.
Check out these other blood-draw tips from the World Health Organization (WHO): plan ahead, use an appropriate location, and ensure there's quality control. The WHO also maintains the below standards of patient care for hospitals to meet:
+ Availability of appropriate supplies and protective equipment
+ Availability of post-exposure prophylaxis (PEP)
+ Avoidance of contaminated phlebotomy equipment
+ Appropriate training in phlebotomy
+ Cooperation on the part of patients
+ Quality of laboratory sampling
Step One: Know Your Veins
The first step in this process is to identify the right veins to puncture. According to Colduvell, the most common choice for adult patients is the "median cubital vein in the antecubital fossa" (think crevice of the elbow). It's also referred to as the antecubital or the AC. Colduvell explains that, for beginners, this vein is typically the first choice because it's close to the surface and doesn't usually roll when punctured. Additionally, it comes with low risk of damaging nearby nerves, arteries, or tendons. Some other commonly used veins are the basilic vein and the cephalic vein.
Another important part of step one? Knowing which areas to avoid puncturing. Check out Colduvell's list below:
Edematous sites (swollen sites filled with serous fluid)
Scarred or burned areas
Fistulas and grafts
Hematomas
From an IV cannula (unless permitted by your institution)
Sites above an IV cannula in the same vessel
Arm with PICC line
Arm with a preexisting or current blood clot
Arm on side of a mastectomy
Via an open wound or area of infection
Arm in which blood is being transfused
Arm on the side of a surgical procedure
Step Two: Have Your Supplies Ready
Once you know the site of the blood draw, you'll want to gather the necessary supplies. Some healthcare facilities have pre-made kits, but others involve individual retrieval. It's a good idea for nurses to take an extra set of supplies into the exam room. Why? You might need to perform more than one venipuncture.
Here are Colduvell's suggested supplies:
Evacuated Collection Tubes (tubes specific to labs ordered)
Personal Protective Equipment (ie gloves)
Appropriate blood-drawing needles
Tourniquet
Hand Sanitizer
Alcohol swabs for skin disinfection
Laboratory specimen labels
Gauze
Blood transfer device
Adhesive bandage/tape
Laboratory forms
Bio-hazard leak-proof transportation bags
Puncture resistant sharps container
Step Three: Perform a Proper Venipuncture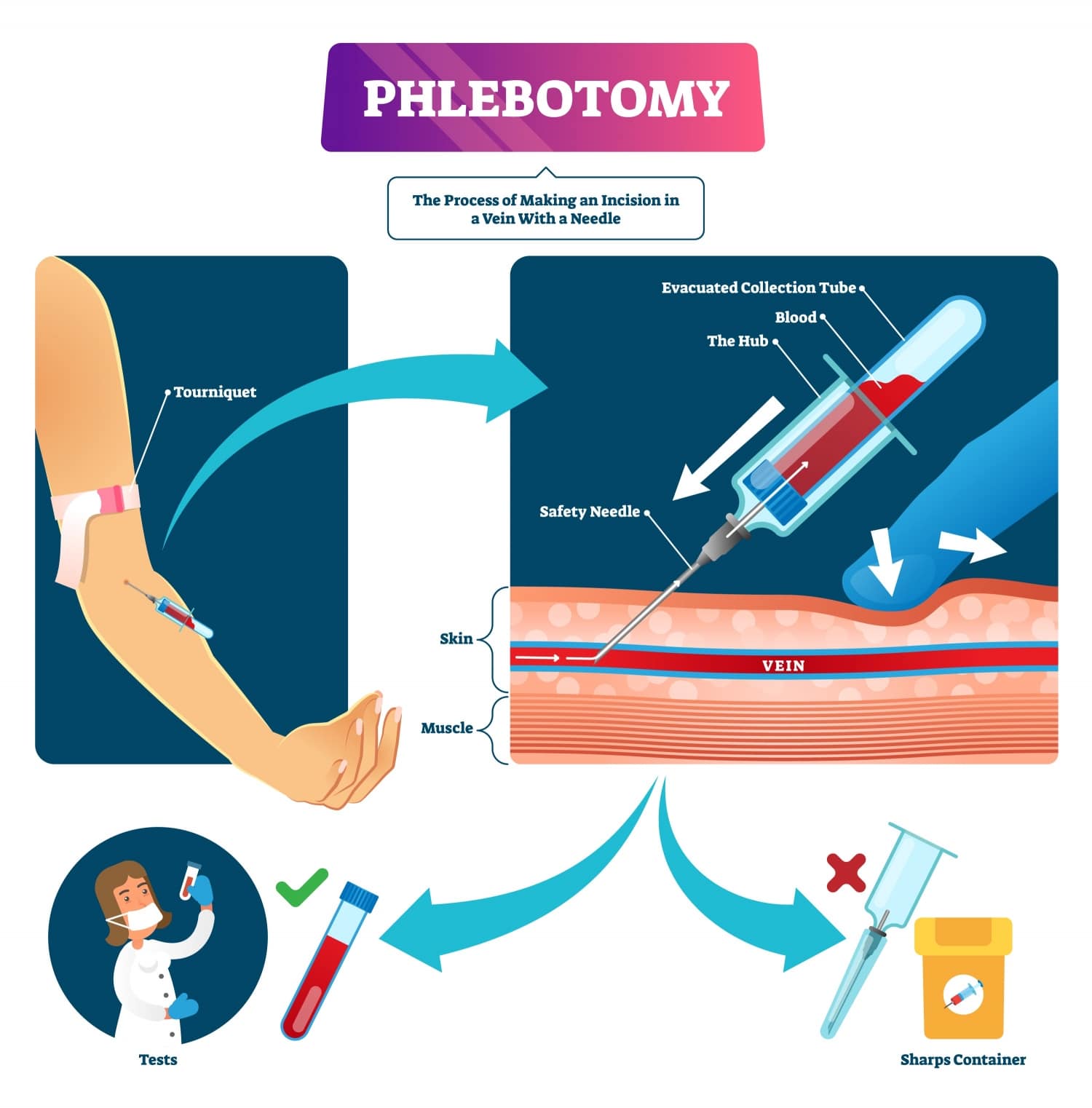 You've made it to the final step! Now that the equipment has been assembled, it's time to perform a proper venipuncture. Remember, though: These are only general guidelines. Nurses should speak with hospital personnel regarding venipuncture before ever performing this procedure on a patient.
We're going to again refer to the expert, Kathleen Colduvell! She has outlined the following guidelines for adult and pediatric patients:
Explain the procedure and reason for the blood draw to the patient.
Identify the patient using two patient identifiers as mandated by JCAHO.
Confirm the ordered tests and fill out the appropriate forms and labels.
Check for any allergies or sensitivities with the patient regarding antiseptics, adhesives, or latex.
Position the patient and hyperextend the patient's arm.
Perform good hand hygiene and wear appropriate PPE (personal protective equipment).
Apply a tourniquet approximately three to four inches above the selected site. Closely monitor the arm to ensure that it is not applied too tight or for more than two minutes. Reasons for concern would include numbness, tingling, change of color to blue or white, and extreme pain.
Ask the patient to make a fist and not pump the hand.
Prep the venipuncture site by cleansing the area with an alcohol prep pad for 30 seconds and allow to air dry for 30 seconds. Do not wave, fan, or blow on the area as this contaminates the area and leads to increased risk for infection.
Grab the patient's lower arm (below site of puncture) firmly to draw the skin taut and anchor the vein from rolling. Insert the needle at a 15 to 30-degree angle into the vessel.
If properly inserted, blood should flash into the catheter. If this does not happen then the needle has either not punctured the vein or the needle went through the vessel.
Attach the needed tubes or syringes to remove the proper volume of blood. Only remove the tourniquet as the last amount of blood is drawn.
Remove the needle from the patient's arm and press down on the vessel with gauze.
Dispose of contaminated materials and needles in the designated hospital-approved containers.
Label appropriate tubes at the bedside and place into transport bags.
Deliver blood specimens to the laboratory promptly. If the blood is not delivered in a timely manner it can cause hemolysis and skew the lab results.
If you don't get it right the first time, try not to feel disheartened. Venipuncture is like any other skill—it takes lots of time and practice to get it right. And don't be shy about asking for help. Veteran nurses can assist you in honing your craft and mastering new skills.
An Overview of Unitek College
If you liked reading this content, you might want to check out the nursing programs at Unitek College! Founded in 2002, Unitek College is an accredited, private institution that combines unique academic and technical specialties to provide excellent training programs in healthcare and nursing. With seven campuses in California, Unitek offers educational programs in the cities of Fremont, San Jose, Hayward, Concord, South San Francisco, Sacramento, and Bakersfield. All Unitek College campuses offer healthcare career training and clinical education experiences. Some locations also provide students with the following programs: Vocational Nursing, Bachelor of Science in Nursing (BSN), and RN-to-BSN.
If you'd like more information, please visit Unitek's contact page and reach out to a friendly school representative.
Learn how to help others with Unitek College!
https://www.unitekcollege.edu/wp-content/uploads/2019/08/what-is-venipuncture-used-for.jpg
1522
1500
Unitek College
https://www.unitekcollege.edu/wp-content/uploads/2017/07/unitek-college-logo-01.svg
Unitek College
2019-08-21 05:15:21
2019-08-09 11:24:04
A Step-by-Step Guide to Venipuncture