PHARMACY TECHNICIAN CAREER OVERVIEW
Pharmacy Technicians are a vital part of the healthcare ecosystem. They work under the supervision of a licensed pharmacist, and they help them dispense prescription medication to customers. In California, Pharmacy Technicians complete tasks related to the receiving, distribution, maintenance, manufacturing, and packaging of pharmaceutical products. The ideal Pharmacy Technician has an eye for detail and a deep appreciation for accuracy.

Pharm Techs work in retail pharmacies and hospitals
Typically, Pharmacy Technicians work in retail pharmacies and hospitals. Their duties usually include stocking inventory for various medications, maintaining patient medical records, creating prescription labels, and counting and allotting medication into containers. Additionally, they prepare insurance forms and manage cash registers.
In hospitals, Pharmacy Technicians perform similar duties. They also assemble larger quantities of medications for patients. Generally, they will repackage medication, prepare medication that is commercially unavailable, prepare sterile intravenous medication, monitor nursing station medication, and deliver medication to nursing units when the need arises. Lastly, they gather quality improvement data.

Pharmacy Technician program that can be completed in under a year
If you've ever wondered how to become a Pharmacy Technician, Unitek College offers a PT program that can be completed in under a year. It provides students with the knowledge and skillset they'll need to succeed as a Pharmacy Technician. The program teaches students how to assist a licensed pharmacist in both retail and hospital settings. Unitek's curriculum places an emphasis on professionalism, communication, and problem solving. It also stresses the importance of maintaining OSHA and HIPAA guidelines.
During the program, students will learn how to read and use abbreviations for medications. They'll also learn how to perform aseptic techniques, prepare parenteral admixtures, and calculate common dosage forms of medications. In order to give students a well-rounded experience, our program combines extensive instruction with simulation training and a 240-hour supervised externship. If you're interested in receiving Pharmacy Technician training, we offer this particular program at three of our campuses.

Searching for Pharmacy Technician programs
When searching for Pharmacy Technician programs, it's good to consider whether a program has been accredited by the ASHP/ACPE Pharmacy Technician Accreditation Commission (a collaboration between the American Society of Health-System Pharmacists and the Accreditation Council for Pharmacy Education).1 For 75 years, the ASHP has been at the forefront of efforts to improve medication use and enhance patient safety. Unitek's Pharmacy Technician program has been programmatically accredited by the ASHP/ACPE.

Demand for PT's is projected to grow
Demand for Pharmacy Technicians is projected to grow 12 percent by 2026, which is quicker than the average of all occupations.2 The Bureau of Labor Statistics states that increasing demands for prescription medications will create a greater need for pharmacy technicians. In 2016 alone, Pharmacy Technicians held about 402,500 jobs.
According to the Bureau of Labor Statistics, the following are important qualities that Pharmacy Technicians should have: detail-oriented behaviors, customer-service skills, listening skills, math skills, and organizational skills. Since Pharmacy Technicians can spend a great deal of time interacting with customers, it's important that they be helpful, polite, and professional. It's also critical that they possess a detail-oriented nature. While licensed pharmacists are responsible for ensuring the safety of all dispensed medications, pharmacy technicians should value accuracy and exactness in order to avoid complications.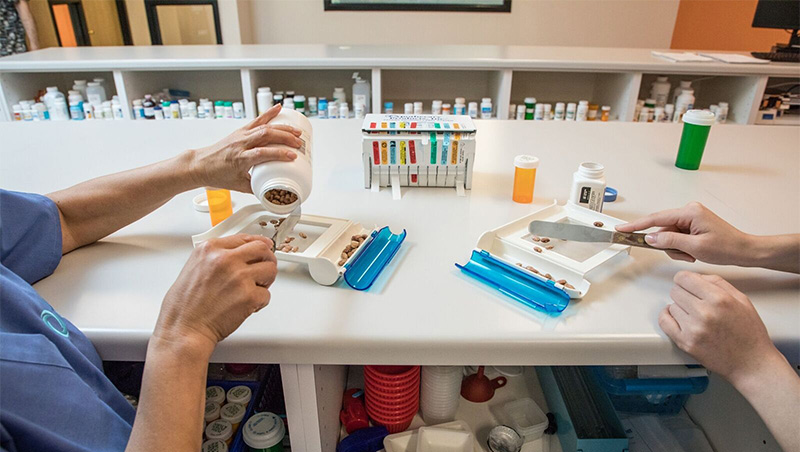 Listening skills are invaluable as well. When taking prescription orders, Pharmacy Technicians need to communicate clearly with doctors and pharmacists. They also need to communicate well with customers in order to determine if they need the pharmacist's assistance. Equally important are math skills and organization skills. Math concepts are used on a daily basis to count and dispense medication. Given that time management is essential for a Pharmacy Technician, organization skills are key so that they can balance all of their responsibilities.

Pharmacy Technicians play a valuable role in healthcare
This career is steadily growing and, with Unitek's 9-month program, it is both a convenient and attainable choice. If you'd like to change your career path, visit the Unitek site for more information about our Pharmacy Technician program.
1 https://www.unitekcollege.edu/about-us/
2 https://www.bls.gov/ooh/healthcare/pharmacy-technicians.htm