WHAT IS THE ROLE OF A MEDICAL ASSISTANT
It can be difficult to categorize a Medical Assistant. This is largely because Medical Assistants wear so many hats and perform various tasks. They fill the role of an administrator as well as a healthcare professional, and they are typically the first and last face a patient will see during their visit. They also provide vital support to other members of the healthcare team. Without a doubt, Medical Assistants keep healthcare facilities running smoothly.

What You Can Expect from Medical Assisting
Working as a Medical Assistant will give you exposure, opportunities, and fulfillment. Not only will you have the chance to gain medical experience, but you will also connect with other healthcare professionals. Perhaps most importantly, healthcare careers allow for both professional and personal growth.
If you get bored easily, Medical Assisting may be a great fit for you. Your role frequently changes and offers new challenges. In fact, if you asked a Medical Assistant about their current work day, they may not be able to answer! A typical workday can vary greatly for many Medical Assistants. They are usually on the move while performing a range of administrative and clinical tasks.
Above all else, you will build relationships with patients and provide vital support. Consider the very name of this profession: Medical Assistant. You assist doctors, nurses, and other healthcare personnel. Think of yourself as their right-hand man or woman. While on the job, you encourage communication, foster positive attitudes, and promote cleanliness. Additionally, you're a strong patient advocate.

Important Qualities of Medical Assistants
It goes without saying that there are exceptions to every rule. Generally speaking, however, there are certain qualities typically found in successful Medical Assistants. Some of these qualities have been taken directly from the U.S. Bureau of Labor Statistics.
Good Multitaskers: Medical Assistants really excel when they can do several things at once. Because their jobs are split between administrative and clinical components, there usually isn't a shortage in tasks that need to be completed. Additionally, it's best if MAs are resourceful, adaptable, and efficient.
A Drive to Help Others: This one is particularly important. If you don't care about helping others, you probably shouldn't be a Medical Assistant (or a healthcare professional). While there are several perks for Medical Assistants, the number one motivator should always involve helping others. Before you pursue Medical Assistant training, ask yourself if bettering the community gives you satisfaction.
Analytical & Technical Skills: According to the Bureau of Labor Statistics, Medical Assistants must be able to read medical charts and diagnoses.1 They may need to code a patient's medical records for billing purposes. Technical skills are equally important, as Medical Assistants often use clinical instruments to take a patient's vital signs.
Detail Oriented: This quality is also listed on the website of the Bureau of Labor Statistics. It is critical that Medical Assistants be as accurate as possible when taking vital signs or recording information. Why, you may ask? Physicians and insurance companies rely on these records.
Interpersonal Skills. The Bureau of Labor Statistics refers to these skills as important qualities for Medical Assistants. Because they play a supportive role, MAs often need to convey patient information to other healthcare personnel (i.e. physicians). Additionally, they may interact with patients who are stressed or in pain. It's imperative that Medical Assistants remain calm and professional.

Duties You'll Learn for Your Future Job
Though MA tasks can vary by location or specialty, they usually include these administrative and clinical functions:
Administrative duties
Answer telephones
Schedule appointments
Greet patients
Update and file patient charts
Order supplies
Arrange for hospital admission and laboratory services
Handle billing, collections, and bookkeeping
Clinical duties
Take medical histories and record vital signs
Prepare patients for examination and assist physicians during examinations
Telephone prescriptions to a pharmacy
Collect and prepare laboratory specimens
Sterilize medical instruments
Prep patients for X-rays
Take electrocardiograms
Remove sutures and change bandages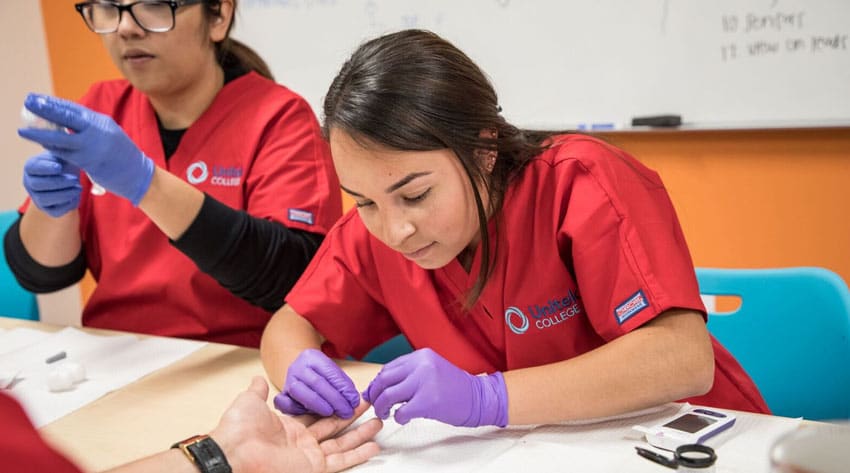 At Unitek College, we seek to prepare students for entry-level employment as Medical Assistants through our Medical Assisting program. Above all else, we strive to be accessible and inclusive, and we are eager to help others take charge of their future.
If you'd like more information about how long the Medical Assistant program is, or any questions about the program, please review our locations and contact one of our campuses.

We Offer Medical Assisting Training Throughout California: