Why Medical Assisting as a Career
You might be wondering why you should choose a Medical Assistant school. If you're intrigued by the idea of Medical Assisting, it's important to consider the benefits you will likely find on this career path. Because many programs take a year or less to complete, you'll be able to finish your studies and start your career fairly quickly.
Medical Assisting also comes with a certain degree of job security. In fact, the Bureau of Labor Statistics expects a 29 percent surge in employment opportunities.1 Perhaps most importantly, Medical Assisting is often seen as a noble and fulfilling career. In this line of work, not only will you help others, but you will improve the overall health of the community.

Duties and Responsibilities
Medical Assistants can work in various environments. These healthcare-oriented settings include hospitals, medical offices, private homes, outpatient facilities, surgical centers, and more. Though MA duties might vary by location and specialty, they typically include the following:
Record patient history
Measure vital signs
Assist physicians with examinations
Schedule patient appointments
Prepare blood samples for laboratory tests
Enter patient information into medical records
Give patients injections/medications as directed by physicians

Medical Assisting on the Rise
As stated above, employment opportunities are projected to grow 29 percent by 2026.1 The Bureau of Labor Statistics cites one major reason for this increase: the aging baby-boomer population and the importance of preventive care. As these services are typically provided by physicians, their need for greater support teams will increase to meet this rising demand.
According to the Bureau Labor Statistics, important qualities for MAs include analytical skills, interpersonal skills, and technical skills. They also emphasize the importance of detail-oriented natures, as precision is critical when MAs take vital signs or record patient information.

A Closer Look at the MA Program
The MA program at Unitek College includes several Medical Assistant courses. Students gain vital knowledge through conceptual learning as well as active, hands-on exercises. Applied training, lab work, and a supervised externship all serve to enrich our students' educational experience.
Some courses you can expect to see are Introduction to Medical Assisting & Medical Law; Pharmacology, Medical Administration, Diagnostic Imaging; Patient Assessment, Cardio-Pulmonary, Gastroenterology; Stages of Life: Pediatrics, Ob/Gyn, Geriatrics; and more. In addition, it's worth noting that Unitek's MA program can be completed in as little as 9 months.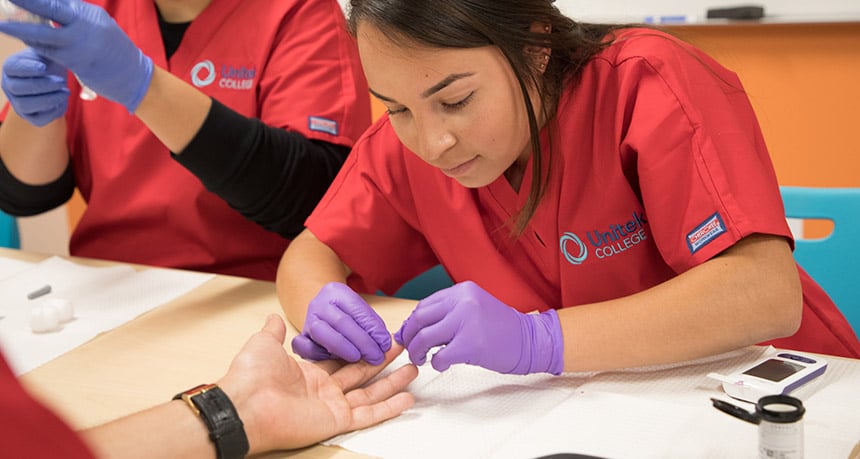 Enrolling at Unitek College
If you're considering Medical Assistant training, then selecting the right school is a critical step toward success. Please review the following requirements to learn more about Unitek's enrollment process.
Complete a career planning session
Schedule an admissions interview
Send Unitek proof of high school education/equivalent
Take the assessment exam
Complete a Unitek application
Complete the enrollment agreement
Make any financial preparations

About the South San Francisco Campus
Situated near the Junipero Serra Freeway, the South San Francisco Campus is in a location that is both convenient and accessible. Nearby establishments include Costco, Trader Joe's, and Kaiser Permanente.
The campus occupies more than 7,000 square feet. While on campus, students can utilize multiple classrooms, skills labs, and computer centers. They also have access to a library and a student lounge along with admissions, financial aid, and administrative offices. If you're searching for Medical Assistant programs in South San Francisco, please contact us toll free at 855-811-6191.
Pursue your dreams with Unitek College.