About Medical Office Administration
Medical Office Administrators perform many clerical duties for medical offices, insurance companies, and other healthcare facilities. Our San Jose Campus offers a Medical Office Administration program that gives students the skillset they'll need to succeed in the field. For this profession, responsibilities normally include maintaining medical records, completing bookkeeping tasks, and managing other accounting duties.
Accelerated Career Growth
Employment of Medical Office Administrators is expected to grow 13 percent by 2026.1 As lifespans continue to lengthen in the elderly population, demand for preventive medical services will also increase. According to the Bureau of Labor Statistics, doctors and healthcare facilities will require more clerical support.
Medical Office Administrators held about 206,300 jobs in 2016. Previously, the largest employers in this profession were as follows: hospitals (state, local, and private); offices of physicians, administrative and support services; professional, scientific, and technical services; and nursing care facilities (skilled nursing facilities).
MOA Program Information
Upon successfully completing the program, students will know how to provide excellent patient administration. Classes will cover general office skills, medical data processing, and medical office software. Instruction will also be provided on the topics of clinical office procedures and the principles of medical record-keeping.
While enrolled in the program, you can expect to see courses like the following: Fundamentals of Health Care, Computer Fundamentals, Medical Office Administration, Business Practices in the Medical Office, Health Records Management, Medical Insurance Billing, and Medical Insurance Coding.
Regarding professional certification, graduates may be eligible to take numerous certification exams. These include the Electronic Health Records Specialist exam, the Certified Medical Administrative Assistant exam, and the Medical Billing and Coding Specialist exam. While these credentials are not required to graduate, they can be of value depending on the student's particular career goals. Of course, Unitek faculty members are available to advise students seeking such certifications.
Educational Objectives
After completing the MOA program, graduates will be prepared to work as entry-level Medical Office Assistants and carry out the following tasks:
Perform opening and closing office procedures
Operate hardware and software to accomplish office tasks
Create electronic health records
Use medical terminology
Use software to collect and audit patient information
Assign insurance codes for medical diagnoses and procedures
Submit health insurance claims for reimbursement
Perform entry-level bookkeeping and accounting procedures
Perform CPR, basic first aid, and take patients' vital signs
Classroom and Lab Settings
Students will be taught in classrooms equipped with computer workstations. During their studies, students will have access to specialty billing, coding, medical records, and office administration software. Standard office software for Word processing, email communication, and appointment scheduling will be provided as well. Additionally, students will utilize a medical lab while learning CPR, first aid, and patient vital signs.
Unitek's Enrollment Process
If you're interested in our MOA program, please read the steps that must be taken to enroll at our San Jose Campus:
Meet for career planning
Complete the admissions interview
Submit proof of high school education or equivalent
Take the assessment exam
Fill out an admissions application
Complete the enrollment agreement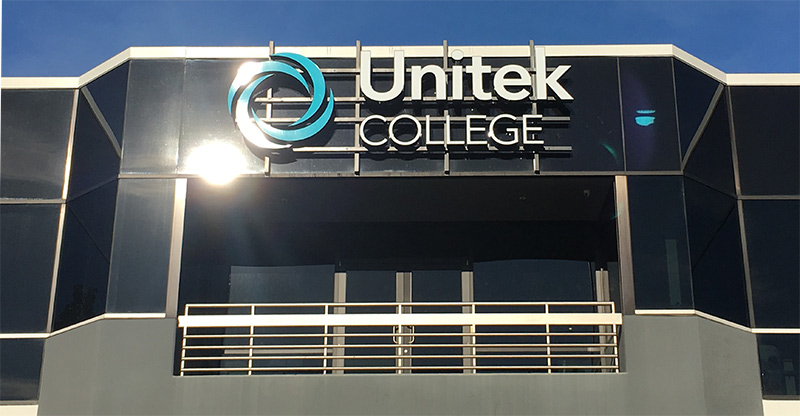 The San Jose Campus
Enclosed by Santa Teresa Boulevard and Great Oaks Boulevard, the San Jose Campus can also be found near the W. Valley Freeway. The location is not only accessible but convenient, as there are various establishments in the area, such as shopping centers, restaurants, and apartment complexes.
On campus, students will have access to several classrooms, labs, and faculty offices. They'll also have access to a library and a break room. If you're looking for Medical Assisting programs in San Jose, please contact us toll free at 800-318-1550.
1 https://www.bls.gov/ooh/healthcare/medical-records-and-health-information-technicians.htm