Why You Should Choose Medical Assisting
There are numerous benefits to choosing a career as a Medical Assistant. Since most programs take a year or less to complete, you can finish your studies and jump start your career fairly quickly. You'll also be in relatively high demand, as the Bureau of Labor Statistics has predicted a 29 percent surge in employment opportunities.1 Due to this growth, a career as a Medical Assistant seems to promise a certain degree of stability. Above all else, Medical Assisting can be very fulfilling. In the field, you will help people, better the community, and advocate the wellbeing of your patients.
While some find lifelong careers as Medical Assistants, others may use the experience as a stepping stone in a longer career path. Medical Assisting is a great foundation for a future in healthcare, as you will be exposed to a variety of professions and specialties. In the process, you might discover a related interest or opportunity. In a similar vein, Medical Assistants work in a host of medical environments, such as hospitals, medical offices, private homes, outpatient facilities, surgical centers, clinics, and more.
Job duties typically include clinical tasks like drawing blood and completing basic lab tests. They can also include administrative duties, such as managing patient records, scheduling appointments, and handling billing tasks. Given the exposure and the evolving work, it seems safe to say that you will likely find numerous opportunities in the Medical Assisting field.

A Demand for Medical Assistants
When pursuing a different career, it's wise to consider if there's anticipated growth. In 2016 alone, Medical Assistants occupied 634,400 jobs. As stated above, employment opportunities are expected to grow 29 percent by 2026.1 The Bureau of Labor Statistics cites one primary reason for this surge: the aging baby-boomer population and the need for more preventive care. As these services are often provided by physicians, the demand for greater support teams will also grow. Additionally, an increasing number of practices, clinics, and other healthcare facilities will need more support workers, specifically Medical Assistants, to perform both administrative and clinical duties.

About the MA Program
The MA program at Unitek College uses a dynamic approach to prepare students. While some courses are taught in a classroom, students will also learn through applied, hands-on methods. Simulation training, lab exercises, and a supervised externship all serve to better educate our students.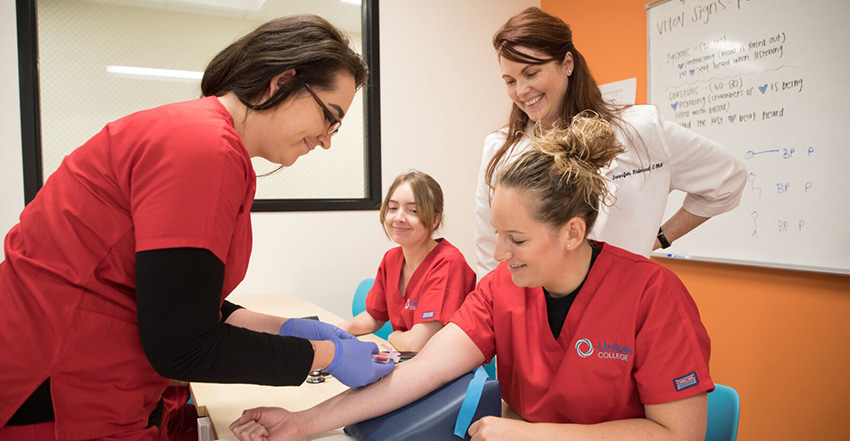 During the Medical Assisting program, students will gain vital knowledge about laboratory techniques, clinical procedures, pharmaceutical principles, medication administration, and first aid. Other central topics include patient relations and medical law. Students will also learn more about ethics in the healthcare field.
Some courses you can expect to see are Introduction to Medical Assisting & Medical Law; Pharmacology, Medical Administration, Diagnostic Imaging; Patient Assessment, Cardio-Pulmonary, Gastroenterology; Stages of Life: Pediatrics, Ob/Gyn, Geriatrics; and more. Additionally, it's important to note that our MA program can be completed in as little as 9 months.

The Enrollment Process at Unitek College
If you're interested in becoming a Medical Assistant, then picking the right school is undeniably important. Please see the below steps to learn more about Unitek's enrollment process.
Complete a career planning session
Schedule an admissions interview
Send Unitek proof of high school education/equivalent
Take the assessment exam
Complete a Unitek application
Complete the enrollment agreement
Make any financial preparations

The San Jose Campus
Various Unitek programs prepare students by giving them access to healthcare facilities, simulation training, and expert instruction. The programs offered at the San Jose Campus are opportune and effective, as they can all be completed in a year or less.
Enclosed by Santa Teresa Boulevard and Great Oaks Boulevard, the San Jose Campus is also situated near the W. Valley Freeway. There are numerous establishments in the area, including shopping centers, restaurants, and apartment complexes.
This campus is approximately 28,000 square feet. While on campus, students will have access to several classrooms, labs, and faculty offices. They'll have access to a library and a break room as well. If you're looking for Medical Assisting programs in San Jose, please contact us toll free at 800-318-1550.
Take charge of your future with Unitek College.