Why Medical Assisting as a Career
There are many reasons to choose Medical Assisting. Entry into the job market is relatively fast, considering that most MA programs can be completed in less than a year. If you'd like to pursue a career in healthcare but you're unable to commit to years of schooling, then Medical Assisting could be a great career choice for you.
Job satisfaction is another reason to choose Medical Assisting. More often than not, Medical Assistants make a difference in the lives of their patients. The work environment is also varied, which typically guarantees a lack of boredom, great networking, and newly acquired skills. Additionally, Medical Assisting allows you to experience different aspects of healthcare. Because of this, Medical Assisting could be seen as an ideal starting off point in the healthcare industry.

Duties and Responsibilities
At our Hayward Campus, we effectively prepare students for their chosen field. The Medical Assisting program utilizes a well-rounded curriculum and a dynamic approach. By the end of the program, students will have received both clinical and administrative training.
Graduates of the MA program will be prepared to do the following: perform administrative functions such as answering telephones, scheduling appointments, updating patient charts, ordering supplies, completing billing tasks, and arranging for hospital admission or laboratory services. Graduates will also be trained in the use of electronic medical records software.
Students will learn how to perform clinical functions as well, such as relaying prescriptions to a pharmacy, collecting laboratory specimens, and sterilizing medical instruments. Additionally, they will learn how to prepare patients for x-rays and take electrocardiograms. Graduates will also be prepared to remove sutures and change dressings.

Positive Career Outlook
Employment opportunities are booming for Medical Assistants. According to the Bureau of Labor Statistics, employment opportunities are expected to increase 29 percent by 2026.1 The baby-boomer population is not only aging, but they're enjoying longer lifespans and greater medical services. In order to treat more patients, physicians will need to hire additional Medical Assistants.

Our Efficient Program
Unitek's MA program teaches students in a variety of settings. While a portion of the program is taught in a classroom, students will also learn through simulation exercises and a supervised externship. Overall, students will gain vital knowledge about laboratory techniques, clinical and diagnostic procedures, pharmaceutical principles, medication administration, first aid, common office practices, patient relations, and medical law. Perhaps most importantly, students will also learn about ethics in the healthcare industry.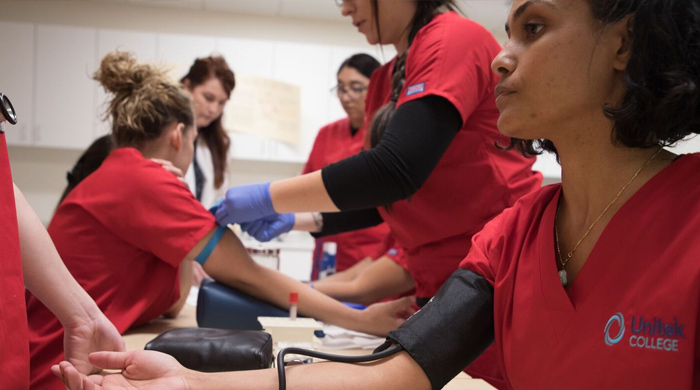 Some courses you can expect to see are Introduction to Medical Assisting & Medical Law; Pharmacology, Medication Administration, Diagnostic Imaging; Stages of Life: Pediatrics, Ob/Gyn, Geriatrics; and Computerized Medical Assisting.
It's worth noting that this program can be completed in as little as 9 months. If you'd like to pursue a rewarding career but your time is limited, then Medical Assisting might be a career path to consider.

Classroom and Lab Environment
Unitek labs are fully equipped to simulate an office and clinic setting. If you decide to enroll in our program, the following lab equipment will become very familiar: micro-hematocrit centrifuge, blood and urine centrifuge, pulse oximeter, electrocardiogram machine, glucose meters, and sphygmomanometers (B/P) cuffs. Students will also have access to a patient height and weight scale, an autoclave machine, and a hemoglobin meter.
In as little as 9 months, you could utilize this equipment and easily explain the purpose of each instrument.

Unitek Enrollment Process
If you are thinking about enrolling in our MA program, please review the following steps:
Career planning session & admissions interview
Send proof of high school education/equivalent
Assessment test
General application
Enrollment agreement
Financial arrangements

The Hayward Campus
Unitek's Hayward Campus is located in Northern California. Situated near Interstate 880, the Hayward Campus is surrounded by several convenient establishments, including Costco, Target, and the Southland Mall.
In terms of space, the campus is approximately 13,181 square feet. Students will utilize various labs and classrooms. There is a student lounge as well, and accessible faculty offices. Not only is the Hayward Campus in a great location, but all of the programs it offers can be completed in a year or less.
If you're in Hayward and you'd like to receive Medical Assistant training, please contact us toll free at 855-808-2732.