NCLEX-RN License Exam
This program aims to prepare students for the NCLEX-RN License Exam and help them start a rewarding career as a Registered Nurse. Successful graduates will gain their Associate's Degree in Nursing after completing the 26-month program.
Convenient & Supportive
General Education courses are entirely online and class caps are utilized. A maximum of 20 students are allowed per class for General Education courses. This ensures that both instructors and students have enough time and space to complete the program in a satisfactory manner.
The Importance of Registered Nurses
This occupation is predicted to grow 15 percent by 2026.1 Such growth is expected for several reasons, including a higher demand for preventive care, an increase in chronic diseases, and longer lifespans in aging populations. Registered Nurses play many roles in the healthcare field. Some of their duties include the following: record medical histories, administer medications, create or manage plans for patient care, operate medical equipment, assist with diagnostic tests, and much more.
Enrollment Requirements
Take the next step in your nursing career with Unitek's Associate Degree Nursing program. To enroll, please carefully review the following steps.
Career preparation session
Admissions interview
Obtain proof of high school education/equivalent
Entrance exam
Admissions Application
Enrollment agreement
Financial planning
Program Information
Graduates of this nursing program will receive 79.5 semester credit hours and an Associate of Science Degree in Nursing. Graduates will also gain invaluable skills and career opportunities. Those who have successfully completed nursing-board approved Vocational Nursing or Practical Nursing programs and all required General Education courses may be eligible for Advanced Placement status at Unitek. Doing so would excuse these students from the first 4 semesters of the program. Prospective students are encouraged to speak with admissions representatives about this possibility.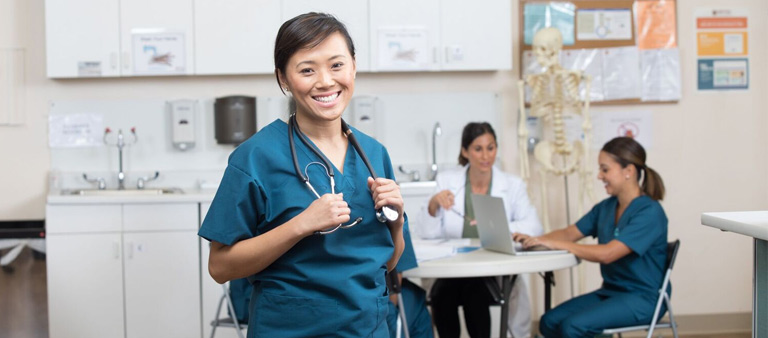 Student Support
At the Fremont Campus, you'll find several beneficial locations, such as a library, a student lounge, and career services. If you need financial assistance, please contact our representatives, they available and happy to help.
Why You Should Pick Unitek
Unitek provides students with exciting curriculums, convenient locations, and various opportunities. Our career services and financial aid teams are eager to assist prospective students. Whether you're seeking your dream job or simply meaningful work, Unitek offers a few different programs that often lead to both stable and satisfying careers. Registered Nurses play an absolutely vital role in healthcare, and gaining an Associate's Degree in Nursing is a great step toward becoming a Registered Nurse.
If you have been searching for Associate Degree Nursing programs in Fremont, please visit our website or contact us toll free at 888-775-1514.