About IT Professionals
If you're a critical thinker and you like problem solving, then providing IT support could be a great career choice for you. Information Technology professionals assist businesses and users alike by handling security issues, effectively solving complex problems, and troubleshooting both software and hardware issues.
Most Commonly Asked Questions
If you're interested in Information Technology training, you may find some of these answers helpful.
Q: How do you become an IT professional?
A: There are various ways to enter this field. We recommend starting with our Information Technology program, as it teaches the fundamentals of computer technology. It also gives students the knowledge they'll need to analyze hardware and software issues. This program is effective but efficient, as it takes as little as 9 months to complete.
Q: What do you do in Information Technology?
A: The duties of an IT professional depend on both the company and the job. For example, you could choose to work as a helpdesk technician. This type of job typically supports companies by providing technical assistance, answering computer-related questions, installing equipment, and overseeing the performance of several computer systems.
Q: What jobs are there in Information Technology?
A: Various jobs fall under IT, such as network support technicians, computer user support specialists, desktop support technicians, helpdesk technicians, and more.
Great Career Outlook
The Bureau of Labor Statistics has predicted that employment opportunities will grow 10 percent by 2026.1 This demand is expected to increase as businesses continue to develop their computer software.
General Program Information
Have you been searching for Information Technology programs in Concord? Unitek College offers a program that teaches students the basics of computer technology. Courses include various topics, such as supporting and securing networks. Our curriculum prepares students by providing professional instruction, lab exercises, and a supervised externship. Graduates receive a diploma and are prepared to explain computer hardware and software concepts to a variety of audiences, work individually and in teams on IT-related tasks, and take current industry-recognized certification exams. Faculty are available to advise students seeking such professional certifications.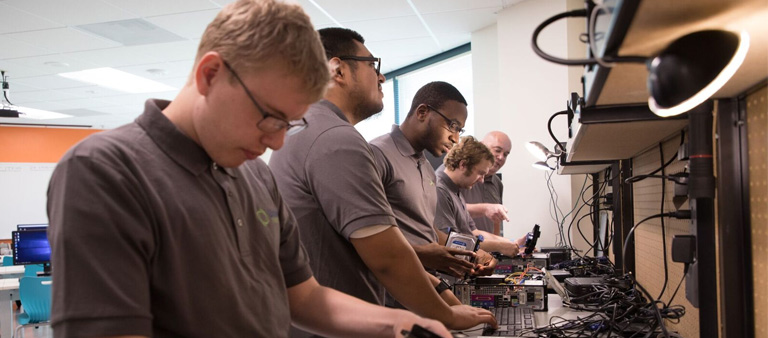 Steps to Enroll
If you'd like to enroll in our program, we encourage you to review the below steps:
Career planning session
Admissions interview
Proof of high school education/equivalent
Entrance exam
Unitek application
Enrollment agreement
Financial arrangements
Federal Aid Disclosure Information
Please click here to view data that relates to both the program and the Concord Campus. You'll find monthly loan payments, program costs, and more.
About the Concord Campus
In 2002, Unitek College started providing healthcare education in Fremont, California. Currently, Unitek maintains seven locations in California. Our Information Technology program is offered at the Concord Campus and three other locations.
The Concord Campus caters to extracurricular student needs by providing areas like a student lounge, an indoor café, and several learning resource stations. Additionally, if students need any financial assistance, our representatives are always happy to help. Please click here to find their contact information. If you're looking for schools in Concord, please visit our website or reach us at 888-919-4220. Take the first step toward your dream career with Unitek.
1https://www.bls.gov/ooh/computer-and-information-technology/computer-support-specialists.htm