Take the Next Step in Your Career
The healthcare industry is exciting and full of countless opportunities. If you're interested in the medical field, and you're hoping to forge a new career path, then you might want to consider Vocational Nursing. Not only is nursing often fulfilling, but it is a largely sustainable career as well. Above all else, nurses take great joy in helping others. They promote good health habits, advocate the wellbeing of their patients, and provide vital support to the healthcare team.

Our Efficient Timeline
Unitek College offers a Vocational Nursing program at each of our campuses. While the curriculum is varied and well rounded, it takes just 12 months to complete the program. We understand that many people would like to pursue satisfying careers but often have time constraints. If you are only able to attend night classes, Unitek also offers a VN evening program that can be completed in as little as 17 months.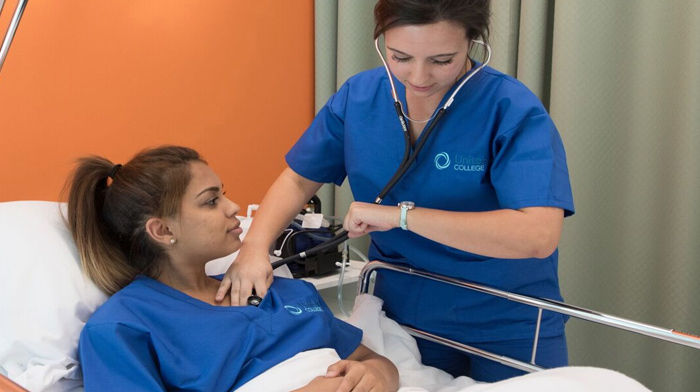 Vocational Nursing might be ideal for those looking to advance their careers. Unitek's program prepares students by giving them the skills, knowledge, and experience they'll need to take the licensure exam. Our curriculum accomplishes this by combining professional instruction with simulation exercises and lab work.

A Career on the Rise
Employment opportunities are projected to grow 12 percent by 2026.1 As the baby-boomer population ages and lifespans increase, the need for medical services will also increase. Licensed Vocational Nurses will likely see a sharp rise in employment opportunities. This will result in a greater need for nursing staff in various healthcare facilities.

How to Enroll in Our Program
If you'd like to enroll at our Bakersfield Campus, please carefully review and complete the following steps:
Career development session & admissions interview
Entrance exam
General application
Enrollment agreement
Prepare any financing arrangements

A Dynamic Curriculum
Students enrolled in the Vocational Nursing program will receive more than 900 hours of applied training in simulations, labs, and healthcare facilities. They will also receive professional, in-class instruction taught by current experts. Throughout this process, they'll gain the support and confidence needed to succeed in the healthcare industry.
During the program, students will be taught how to assess patients and record symptoms. They'll also learn how to communicate with patients, obtain medical histories, and record any adverse reactions to medication. In California, LVNs are permitted to distribute prescribed medications and start intravenous fluids.

About Unitek College, Bakersfield Campus
Unitek College is a private, accredited institution that maintains seven campuses in California. At our Bakersfield Campus, students will find various beneficial locations. Not only are there 4 classrooms and 2 skills labs, but there are also computer labs, a student lounge, and accessible administrative offices.
All of our programs at the Bakersfield Campus can be completed in a year or less. These programs provide students with invaluable education in several healthcare fields. The Vocational Nursing program is a great choice, as it often leads to a stable and rewarding career in healthcare. If you're looking for Vocational Nursing programs in Bakersfield, please contact us toll free at (888) 912-8512.
1 https://www.bls.gov/ooh/healthcare/licensed-practical-and-licensed-vocational-nurses.htm