About Medical Office Administrators
Medical Office Administrators, also known as medical office specialists, perform many clerical duties for medical offices, insurance companies, and other healthcare facilities. Our Bakersfield Campus maintains a Medical Office Administration program that equips students with the knowledge and skillset they'll need to work in the field. For this profession, responsibilities usually include processing medical records, managing insurance claims, completing various tasks for accounting, and other secretarial duties.
Commonly Asked Questions
If you'd like to pursue a career in Medical Office Administration, then you may find some of the below answers helpful.
Q: Why should I become a Medical Office Administrator?
A: Like several other healthcare careers, Medical Office Administration is on the rise. Medical Office Administrators have the administrative and support skills to excel in many healthcare settings. They often assist with office management, and they play an important role in the healthcare ecosystem. Not only is this career typically a stable one, but it is also seen as a satisfying one.
Q: What classes are required in Medical Office Administration programs?
A: It depends on both the program and the school. At Unitek College, students enrolled in the MOA program will learn more about medical terminology, medical office procedures, regulations for patient medical records, basic knowledge of healthcare, and more.
Q: What is the job outlook for Medical Office Administrators?
A: According to the Bureau of Labor Statistics, employment for Medical Office Administrators is expected to grow 13 percent by 2026.1 At this rate, employment opportunities are growing faster than the average of all occupations. In the United States, Medical Office Administrators held 206,300 jobs in 2016 alone.
Great Career Outlook
As stated above, employment for Medical Office Administrators is projected to grow 13 percent by 2026.1 The Bureau of Labor Statistics has provided data that explains this increasing demand. Preventive medical services are on the rise in the United States, which is likely tied to the aging baby-boomer population. Consequentially, doctors will hire more Medical Office Administrators to support them and help maintain their offices.
A Program with a Career-Driven Curriculum
At Unitek College, students receive Medical Office Administration training through a 9-month program. Students will gain invaluable knowledge about healthcare, and they will learn how to provide excellent patient administration. Regarding professional certification, graduates may be eligible to take various certification exams. These include the Electronic Health Records Specialist exam, the Certified Medical Administrative Assistant exam, and the Medical Billing and Coding Specialist exam. While such credentials are not required to graduate, they can be of value depending on the student's particular career goals. Unitek faculty members are available to advise students seeking such certifications.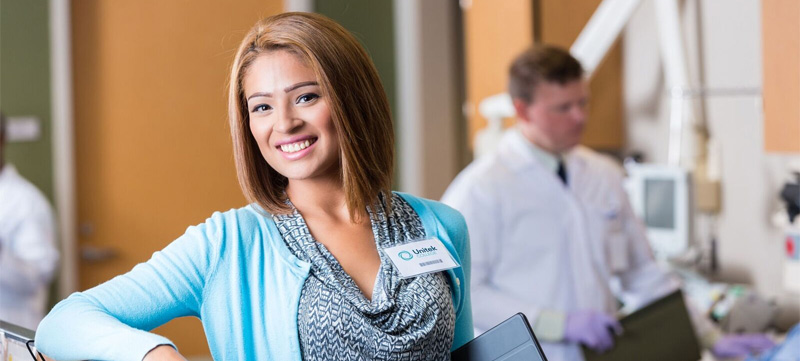 How to Enroll
If you think our program might be right for you, please review the steps that must be taken to enroll at the Bakersfield Campus:
Meet for career planning
Complete the admissions interview
Send proof of high school education or equivalent
Take the assessment exam
Fill out an admissions application
Complete the enrollment agreement
The Bakersfield Campus
Unitek College is a private, accredited institution that maintains seven campuses. Our Bakersfield Campus is located in Southern California and offers several programs in the healthcare field. These programs include Medical Assisting, Medical Office Administration, and Vocational Nursing. The Bakersfield Campus maintains numerous spaces for student use. These spaces include 4 classrooms, 2 skills labs, 2 computer labs, and a student lounge. Additionally, faculty and administrative offices are easily accessible to students.
The Bakersfield Campus sits near the Golden State Highway and Stockdale Highway. Several establishments surround it, such as the Bakersfield Spa Institute, In-N-Out Burger, Pizza Hut, Outback Steakhouse, Panda Express, and more.
In medical offices and healthcare facilities, Medical Office Administrators are usually the first line of defense. They communicate with core groups, such as patients, family members, and insurance representatives. The Medical Office Administration program at Unitek College is a significant step toward a fulfilling career in healthcare. If you would like more information about our program, you can reach us toll free at (888) 912-8512.
1 https://www.bls.gov/ooh/healthcare/medical-records-and-health-information-technicians.htm