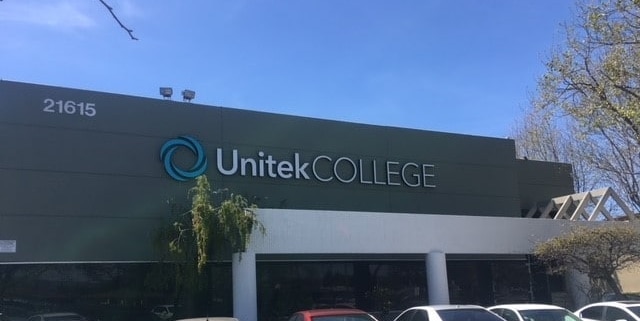 Unitek's Campus Series: Hayward
Recently, we started an exploratory series with our college campuses. During each installment, we'll focus on one Unitek campus, its programs, and the surrounding area. Today we're going to take a look at one of our campuses in the San Francisco Bay Area: Unitek Hayward!
The Hayward Campus is accredited by the Accrediting Commission of Career Schools and Colleges (ACCSC), a recognized accrediting agency by the U.S. Department of Education. There students will find several programs for the next generation of healthcare professionals. While in attendance, they will have access to healthcare facilities, simulation training, and extensive instruction.
Join us as we explore Unitek College, Hayward. Picture blue skies, green belts, and streets lined with trees…
About the Campus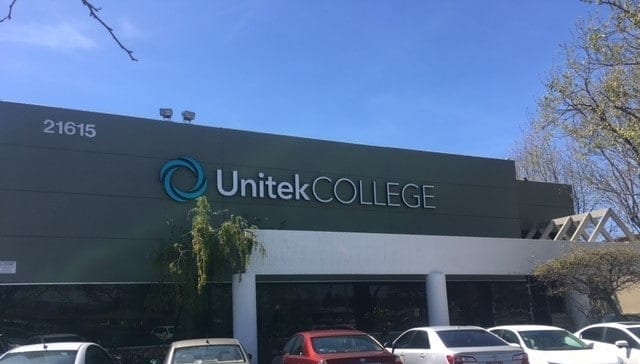 The Hayward Campus is located near Interstate 880 and the Hayward Executive Airport. Situated along Hesperian Boulevard, the campus has Home Depot and Target within its sight. Other nearby destinations include but are not limited to Costco, Southland Mall, and Winton Plaza. Additionally, hotspot areas like Burbank and Santa Clara are also close by!
Now, let's get down to the campus stats. Unitek Hayward occupies approximately 13,181 square feet and contains 2 skills labs, a simulation lab, 5 lecture rooms—two of which also function as computer classrooms—a student lounge, an employee break room, and a learning resource room. Of course, it also contains sufficient space to accommodate administrative and clerical staff.
Here are some other facts about the Hayward Campus:
+ Capped classes. The Medical Assisting program is capped at 30 students. Not only does this give instructors more time with each student, but it also gives each student a greater voice.
+ Vocational Nursing program. Unitek's popular Vocational Nursing program is offered at the Hayward Campus. It provides students with the knowledge they'll need to pass the licensure exam in as little as 12 months! If you'd like to know more, check out our VN program here.
+ Medical Assisting program. Learn how to excel as a Medical Assistant with this dynamic program. At Unitek Hayward, students will utilize a curriculum that emphasizes both administrative and clinical skills. More information can be found here or below.
About Medical Assistant Training
At Unitek College, you'll find a school for Medical Assistants that offers comprehensive yet efficient coursework. Not only can the Medical Assistant program be completed in as little as 9 months, but students will learn through a combination of expert lectures, practical training, and supervised externships. Ultimately, Unitek seeks to equip students with the necessary skillset to pursue a Medical Assisting career.
If you've ever searched for "Medical Assistant programs near me" or wondered about Medical Assistant certification, you probably have several questions that need to be answered. Below, we've included ones that we have frequently seen as well as content that may help:
+ Are you looking for "Medical Assistant programs near me?" Our article delves into this FAQ here.
+ What exactly is the role of a Medical Assistant? Check out another article here.
+ How do you seek and renew Medical Assistant certification? Look at the process with us here.
+ Are Medical Assistants in high demand? Our blog post tackles this question here.
About the City of Hayward
Hayward is a populous city in Northern California. Specifically, it can be found in the East Bay region of the San Francisco Bay Area. Due to its central location, some refer to Hayward as the "Heart of the Bay."
The official website for the city of Hayward has ample information about the area, residents, environment, and much more. A tab called "Discover" allows visitors to look a little deeper into Hayward. As the website states, "People throughout the Bay Area and beyond are quickly discovering what makes Hayward such an exceptional place to live, work, and play."
To learn more, check out this helpful information from the Discover tab…
An Overview of Unitek College
Founded in 2002, Unitek College is an accredited, private institution that combines unique academic and technical specialties to provide excellent training programs in healthcare and nursing. With seven campuses in California, Unitek offers educational programs in the cities of Bakersfield, Concord, Fremont, Hayward, Sacramento, San Jose, and South San Francisco. All Unitek College campuses offer healthcare career training and clinical education experiences.
If you'd like more information about our Hayward Campus, please contact us at 855-808-2732 to speak with a friendly school representative!
https://www.unitekcollege.edu/wp-content/uploads/2019/01/Hayward-Front-cropped-2-e1548693463622.jpg
364
640
Unitek College
https://www.unitekcollege.edu/wp-content/uploads/2017/07/unitek-college-logo-01.svg
Unitek College
2019-01-29 05:15:04
2021-03-18 16:05:55
Unitek's Campus Series: Hayward