There are a lot of different options to consider when you are looking into joining the health career field. Time, money and your personality are three major factors to consider when pursuing a profession; how much time do you want to spend in school? How much money do you want to invest in your education and how much are you hoping to make? What is your personality bend; do you like working with people or on a project alone? If you're not sure what direction to go in, have you considered medical assisting?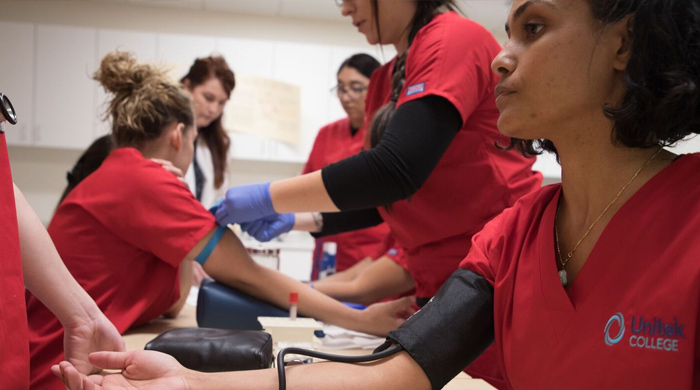 If multi-tasking is one of your strong points, then you fulfill one of the major qualifications for being a medical assistant. Nancy Crotti of the StarTribune.com sums it up by saying that, "Certified medical assistants mostly work in clinics, administering injections, taking blood pressure readings, drawing blood, performing common laboratory tests, working with medical records, scheduling patients and performing electrocardiograms. They often greet patients and escort them to examination rooms and assist providers with procedures." If you had a doctor's appointment, you've probably come into contact with a medical assistant. "The reason that clinics like medical assistants is that they're cross-trained," explained Stacey Wanovich, a faculty member in Anoka Technical College's medical assistant program. "They're a lot of bang for the buck, and nowadays everyone is trying to cut costs."
Medical Assistant salaries varydepending on location and the type of medical office job you are applying for. IArticle.org explains that the cost of living is different not just from state to state, but from city to city. If you live in any suburb and commute to a city, that fact is as tangible as your gas bill. Private clinics also tend to pay less than a hospital, not to mention that your level of education is a factor to consider. According to IArticle.com, "The career paths for those working in this field are office manager, clinical supervisor, medical assisting instructor and social worker for public health clinics."
If you're interested in medical assisting in the San Francisco Bay Area, Santa Clara or Sacramento, consider the Medical Assistant Training programs offered by Unitek College. In a short amount of time you can receive a quality education to get you on your way to a new career.
For more information, please go to:
http://www.startribune.com/jobs/healthcare/112384789.html?elr=KArksi8cyaiUo8cyaiUiD3aPc:_Yyc:aUoD3aPc:_27EQU
and
http://iarticle.org/careers-employment/jobs-career/why-medical-assistant-salary-varies/
https://www.unitekcollege.edu/wp-content/uploads/2017/07/unitek-college-logo-01.svg
0
0
Unitek College
https://www.unitekcollege.edu/wp-content/uploads/2017/07/unitek-college-logo-01.svg
Unitek College
2011-01-07 19:59:59
2018-05-01 17:02:24
Want to Pursue a Medical Assisting Career?