Whether you're in class, learning in the field with your dental assisting externship, or building practical experience in the Unitek College Dental Assisting Lab, one thing is the same: you're working hard. When you're working towards a possible new career in the Dental Assisting field, it's easy to get caught up in studies, projects, and exams, and there's nothing at all wrong with working hard to meet your career goals. But it's also important to take moments when possible to "rest your brain", refuel, and refocus. Fortunately, if you're studying at our Sacramento campus, you've got plenty of options. Here are a few ideas on how to spend your valuable down time.
Smell the Roses in M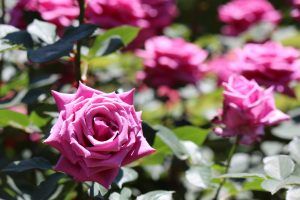 cKinley Park – Literally. McKinely Park is home to one of Sacramento's famous rose gardens, a must-see if you're the type of person who needs to get outdoors to clear your head. The rose garden features free admission and takes about 30-minutes to see start-to-finish. There's also a jogging track, plenty of play areas for kids, and the park is dog-friendly if your furry roommate needs a break as well. We're told April is a particularly nice time to visit.
Coast Along the American River Bicycle Trail – Considered one of the best bicycle trails in the country, the American River Bicycle Trail winds its way through the Sacramento area and is available only for non-motorized visitors… which is great news for students who enjoy biking without worrying about distracted drivers. It's a quick way to forget that you're in the middle of a city. Look for beautiful river views, quiet forests, and occasional wildlife… but if possible, avoid the trails around midday on the weekends. They can get crowded!
Shop in Old Sacramento – Nature not your thing? Check out the cobble-stone streets of Old Sacramento. There's a little something for everyone, whether you like museums, food, or shopping (they have a great mix of old-timey shops plus a few modern boutiques). If you play your cards right, you'll come back from your visit an expert on California Gold Rush history.
Catch a Movie – There are lots of ways to watch a movie, and Sacramento has all of them. Check out a concert or catch a classic movie at The Crest. Or combine entertainment with the great outdoors and see a blockbuster at the Sacramento 6 Drive In. Need a little more "oomph" in your films? The Esquire Imax Theater just got an upgrade (and we hear the new seats are very comfy).
Chow Down with a Food Tour – Foodies, we didn't forget about you. And hey, who can study on an empty stomach? Check out the Local Roots Food Tours for a personalized tour of some of the best restaurants, cafe's, and watering holes off the beaten path. Or satisfy the sweet tooth with a tour of the Rocky Mountain Chocolate Factory.
Whether you're on your own, with kids, or with pets, the Unitek College Sacramento campus is surrounded by activities, attractions, food, and unique experiences. We all need a break from studies at one point or another, and our Dental Assisting students have a world of opportunities from which to choose. Don't forget to let us know some of your favorites!
https://www.unitekcollege.edu/wp-content/uploads/2015/07/Pink.Purple-Roses.jpg
800
1200
Unitek College
https://www.unitekcollege.edu/wp-content/uploads/2017/07/unitek-college-logo-01.svg
Unitek College
2015-07-08 20:00:42
2017-07-26 01:19:54
Take a break and smell the roses