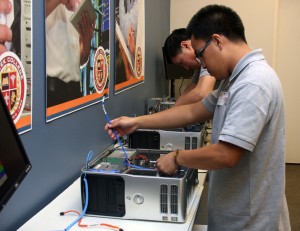 Unitek College welcomed the first group of students into its new Information Technology Diploma Program. The program aims to provide students with a strong technological foundation by preparing them to pass six certification exams. Instructor Carrie S. leads the program, imparting more than five years of IT instructional, managerial, and training experience to her students. With a mix of classroom training and hands-on labs, Unitek College's Information Technology Diploma Program introduces and reinforces the common tools and technologies that IT professionals need to support computer users in today's businesses.
As part of their training, Information Technology students must successfully complete multiple hands-on labs which help them learn to effectively troubleshoot hardware and software issues. During their first hands-on Lab Practical exam, IT students worked to dismantle and reassemble a PC while following all relevant protocols and safety precautions. As their instructor watched, students removed parts of their PC one by one. They began by unplugging all cords and removing the computer's outer shell. Students were then required to remove all components, including the power supply, multiple fans, any CD/DVD drives, the card reader, the hard drive, any RAM, the motherboard, and more. By breaking a PC down into parts, students learn firsthand about the fragile connections required to maintain a functioning computer.
The real test is apparent when students start rebuilding their computers. Any incorrect or loose connections can affect their computer's operation. During the exam, one of the student's computers failed to turn on after it was rebuilt. Instructor Carrie S. saw the situation as a learning opportunity, not failure. The student had the chance to troubleshoot problems with the computer and the connected screen until he could determine the reason for the issue. Sometimes the issue is as simple as a loose connection or a damaged cord. In this situation, hands-on lab experience is infinitely more instructive than listening to a lecture or studying a diagram in a textbook.
Unitek College's Information Technology Certificate students have more exams ahead of them before they graduate from the program, but the skills they learn each day translate to a broader understanding of computer technology fundamentals that will support them in a variety of IT positions throughout their career.
---
   Unitek College's Information Technology Program:
In a world increasingly dependent on computers, the demand for talented IT professionals is incredibly high. Unitek College's Information Technology Program offers curriculum focused on several areas: troubleshooting hardware and software, understanding how data is stored, and setting up security systems to prevent system and network breaches. Unitek College's Information Technology program prepares students to pass six industry standard certification exams: CompTIA A+, CompTIA Network+, CompTIA Security+, CompTIA Linux+, CompTIA Storage+, and Microsoft's MCTS: Windows 7, Configuration. CompTIA A+, Network+, and Security+ certifications are generally regarded as the benchmark certifications for entry-level functions in Information Technology.
Train with a mix of instructor-led classroom instruction and hands-on labs. Get started today and train for a career as an IT professional.
For more information about Unitek College's IT Certificate Program, please visit our website.
https://www.unitekcollege.edu/wp-content/uploads/2017/07/Blog-11-300x231.jpg
231
300
Unitek College
https://www.unitekcollege.edu/wp-content/uploads/2017/07/unitek-college-logo-01.svg
Unitek College
2014-06-04 23:15:38
2017-10-27 14:20:42
Unitek College's First Information Technology Students Tackle a PC Tear Down