When you make the decision to start a new career, one of your first questions likely has to do with job security. We all want to love our job and fulfill a purpose in society, but we also need to be realistic about our financial needs. If you've decided to pursue a career in Medical Assisting, you've likely wondered, are Medical Assistants in high demand?
In short, the answer is yes! According to the U.S. Bureau of Labor Statistics, employment of Medical Assistants is expected to grow 29 percent by 2026, a rate that is quicker than the average of most occupations.1 The Bureau of Labor Statistics has stated that this demand for preventive medical services will increase due to the aging baby-boomer population. Doctors will need to hire additional healthcare personnel to see a greater number of patients.
In 2016 alone, U.S. Medical Assistants held 634,400 jobs.1 As important as a sunny outlook is for a job, it's equally important that you decide if you are right for the job. Not only do you want to find your career rewarding, but you want to select one that suits your personality as well as your strengths.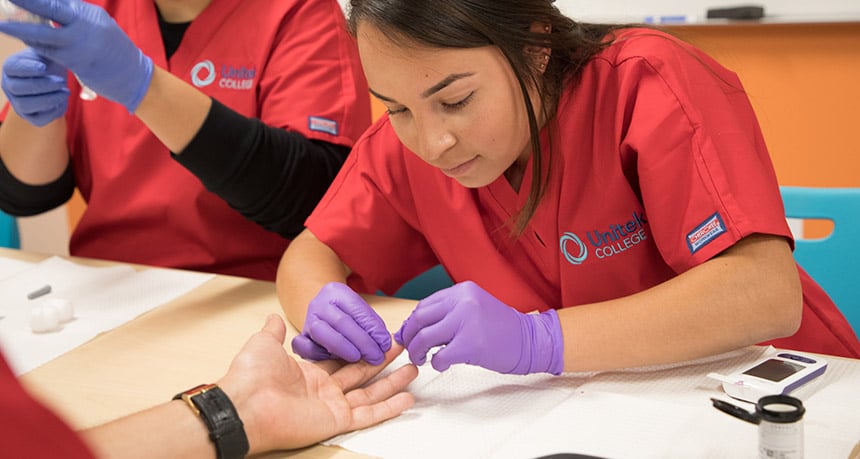 Great Qualities Found in Medical Assistants
It goes without saying that there are exceptions to every rule. Generally speaking, however, there are some qualities commonly found in successful Medical Assistants. We've compiled a list of these qualities below, with most of them having been taken directly from the Bureau of Labor Statistics.
+ A Desire to Help Others: This one is critical. While there are several perks for Medical Assistants, the number one motivator should always involve helping others. Before you pursue Medical Assistant training, ask yourself if you'll find satisfaction in supporting individuals as well as the community.
+ Analytical & Technical Skills: According to the Bureau of Labor Statistics, Medical Assistants must be able to read medical charts and diagnoses.2 They may need to code a patient's medical records for billing purposes. Technical skills are also important, as Medical Assistants often use clinical instruments to take a patient's vital signs.
+ Detail Oriented: This quality is also listed on the website of the Bureau of Labor Statistics. Medical Assistants must be as accurate as possible when taking vital signs or recording information, as physicians and insurance companies rely on these records.
+ Interpersonal Skills: The Bureau of Labor Statistics refers to these skills as important qualities for Medical Assistants. Because they play a supportive role, MAs often need to convey patient information to other healthcare personnel (i.e. physicians).
The Importance of Medical Assistant Programs
When selecting a Medical Assistant training program, it's important to consider various factors. Some of the most essential factors typically include cost, location, and program length. Time constraints are another important consideration. However, if you are short on time, Unitek's 9-month program might be an ideal choice for you!
The MA program at Unitek provides students with critical knowledge through a combination of professional lectures and simulation training. Hands-on activities, lab work, and a supervised externship all serve to equip our students with the skills they'll need to excel as a Medical Assistant.
A Closer Look at Unitek College
Founded in 2002, Unitek College is an accredited, private institution that combines unique academic and technical specialties to provide a superior education in the areas of healthcare and nursing. With seven campuses in California, we offer varied educational programs in the cities of Fremont, San Jose, Hayward, Concord, South San Francisco, Sacramento, and Bakersfield. At Unitek College, we provide healthcare career training and clinical placement. We also provide our graduates with employment assistance for the future.
If you'd like more information, please visit our contact page and reach out to one of our school representatives!
1 https://www.bls.gov/ooh/healthcare/medical-assistants.htm#tab-1
2 https://www.bls.gov/ooh/healthcare/medical-assistants.htm#tab-4
https://www.unitekcollege.edu/wp-content/uploads/2018/05/south-san-francisco-medical-assisting-program.jpg
459
860
Alyssa Jordan
https://www.unitekcollege.edu/wp-content/uploads/2017/07/unitek-college-logo-01.svg
Alyssa Jordan
2018-10-11 05:15:58
2018-10-08 16:31:24
Are Medical Assistants in High Demand?