Sacramento Nursing Program
Selecting a Sacramento vocational nursing program among all of the options can be an overwhelming task, even for the nursing student who knows exactly what he or she wants. There are nursing programs at public, private, and for profit schools. Some nursing programs offer online options and others offered completely on-site with live instruction. Cost and program length vary from program to program as well. Unitek College has provided a rigorous and thorough program that exceeds students' expectations and prepares them with the practical knowledge and application they need to succeed in their nursing career. With 7 located campuses throughout the State of California, students can conveniently attend a vocational nursing (VN) program that offers flexibility without diluting the quality of instruction.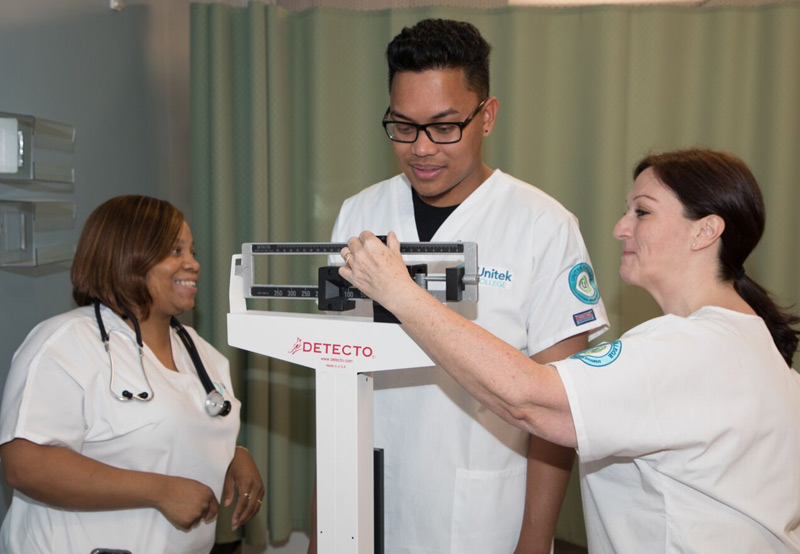 There are many reasons why the graduates of Unitek College go on to succeed in their chosen field. For one, Unitek College provides career services and coaching to students who need help navigating the transition from school to the job marketing. We provide our students with resume, cover letter, and application review. Students have access to a counselor who can help prepare them for a professional interview and a thorough understanding of professional networking and relationship building. We provide job readiness workshops to classes and provide job leads when necessary. Many programs simply prepare student with practical skills and leave them to navigate career planning on their own. Unitek College is invested in students throughout the entire process – from registration to beyond graduation.
Choosing a Sacramento vocational nursing program is easy once you find Unitek College. It doesn't matter where you are in your nursing career, whether you're just beginning or you are an RN looking to become a BSN, Unitek has the program for you. Our BSN program is 100% online. If you're ready to start down the path to become a Registered Nurse, our Associate Degree Nursing program in Freemont is the perfect fit.
We are mindful of nurses who are currently working in the field and hoping to earn their degree without having to exit the workforce, which is why we offer convenient online options. We know that you will be satisfied by the level of quality – both in the teaching instruction and curriculum. At Unitek, we blend academic and hands-on learning; our graduates leave their program feeling confident and prepared for the job market. Additionally, we help our students acquire the critical thinking skills and cultural sensitivity needed to thrive in their work with patients. We instill a love for medicine in all of our students by teaching with passion and enthusiasm.

* Programs vary by location
** Bakersfield campus is currently not accredited
https://www.unitekcollege.edu/wp-content/uploads/2017/07/unitek-college-logo-01.svg
0
0
Unitek College
https://www.unitekcollege.edu/wp-content/uploads/2017/07/unitek-college-logo-01.svg
Unitek College
2018-02-23 18:16:42
2018-02-28 16:28:14
Sacramento Nursing Program