Online RN-to-BSN programs
Unitek's online RN-to-BSN program is a convenient and accessible option for nurses looking to advance their careers. If you are a Registered Nurse (RN) who is thriving in your chosen field, and you're eager to take the next step in your career, Unitek's online program will transition you from RN-to-BSN in as little as 12 months.1 When you think about it, the year will pass by fairly quickly, and you might as well have a BSN to show for your time. After all, a BSN can help RNs obtain a higher salary, greater flexibility, supervisory opportunities, and more!
It's advantageous for nurses to complete their bachelor's degrees
There are several reasons why it is advantageous for nurses to complete their bachelor's degrees. Earning a BSN will equip you with the knowledge and background to better serve your patients. It will also grant you more freedom professionally, as more employers prefer to hire nurses with a bachelor's degree.2 A great aspect of nursing is that it typically allows individuals to advance at a pace that aligns with their desired timeframe and personal career goals. While there are certainly entry-level nurses who find satisfaction in staying at the associate's level, other nurses are eager to continue procuring more education and experience. The beauty of a career in nursing is that the opportunity to advance in education and experience is often accessible for those who would like to pursue it.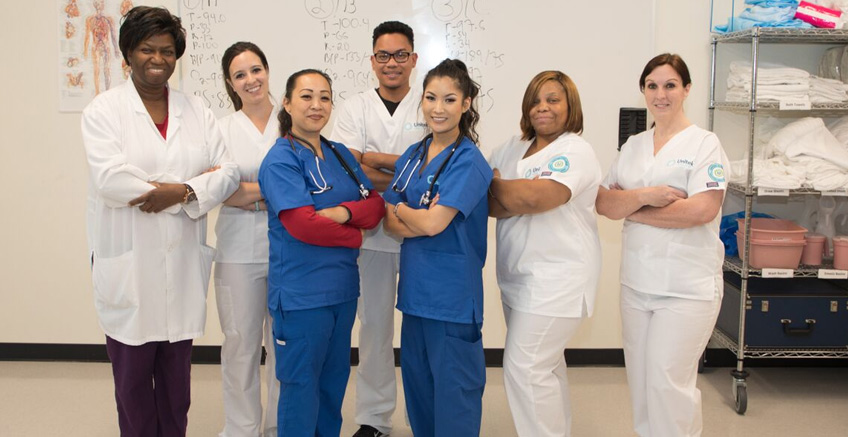 You may be asking yourself, what do students learn in an online RN-to-BSN program?
There are many benefits to earning a BSN. For instance, RN-to-BSN programs delve deeper into evidence-based knowledge. They will shape your nursing practice, help you better understand ethical and legal nursing standards, and refine your practical nursing skills. With a BSN, RNs will be prepared to act as a positive change agent in healthcare. They will also be able to incorporate sensitivity to physical, social, cultural, and spiritual patient diversity.
Small class sizes are one of the many benefits at Unitek's RN-to-BSN program. In fact, a classroom is capped at 20 nursing students to ensure that each person receives the time and attention he or she needs to flourish. Additionally, the program utilizes an online, collaborative learning platform called Moodle. This 100% online instruction allows flexibility for working nurses who would like to continue working in the field as they advance their education.
Online BSN program benefits
Other key benefits of the program include the following: transfer up to 90 credits, attend classes when it's best for you, and pay one flat rate per semester with no hidden costs. Additionally, affordable financing plans are available for those who qualify. The RN-to-BSN program at Unitek is also accredited by the Commission on Collegiate Nursing Education. The CCNE is an accrediting agency that ensures the quality and integrity of baccalaureate, graduate, and residency programs in nursing.
Searching for RN-to-BSN programs
If you've been searching for RN-to-BSN programs, Unitek College might be the right school for you. With seven locations in California, Unitek offers a host of well-established programs. At some campuses, you'll also find our reputable Information Technology program. To learn more about us, please visit our website or contact one of our campuses.
1 assuming maximum credit transfer
2 http://www.aacn.nche.edu/media-relations/fact-sheets/nursing-workforce
https://www.unitekcollege.edu/wp-content/uploads/2018/04/online-rn-to-bsn-programs.jpg
437
848
Unitek College
https://www.unitekcollege.edu/wp-content/uploads/2017/07/unitek-college-logo-01.svg
Unitek College
2018-04-10 20:02:18
2018-04-10 20:08:46
Online RN-to-BSN programs