Interview Tips for Your Next Nursing Interview
Every year, new nurses graduate with the dream of joining the ranks of nurses before them and making a difference in the lives of their patients. And every year, those new nurses go through countless job applications and interviews in the hopes of being offered the chance to do so. If you recently graduated, or will soon graduate from nursing school, or are looking to start a new career in the nursing and allied healthcare fields; no matter what your current position, nailing that first (and maybe second and third) interview is key.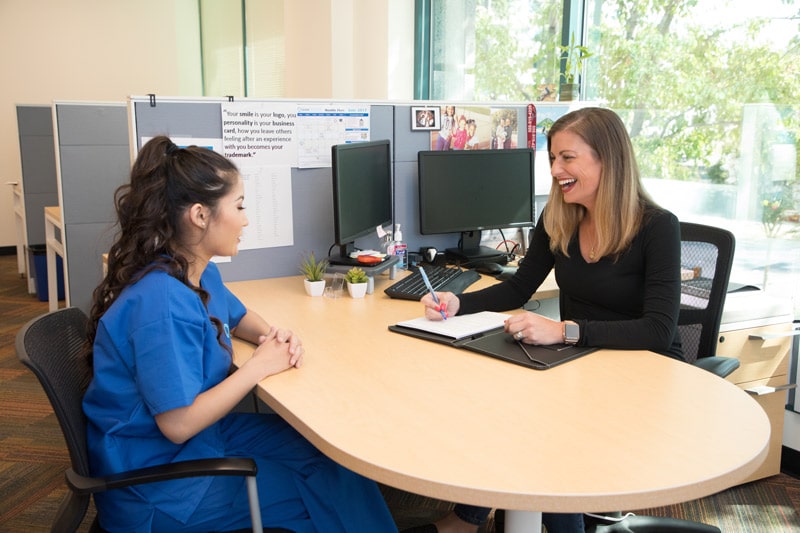 1.  Know yourself – Everything about your job search is about YOU. You apply for the jobs you want, you apply to employers which you want to work for, you apply for that fit the skills you have, and you get those jobs by going into interviews and talking about… yourself. So take advantage of that, it should be the easiest topic in the world. Everyone likes to talk about themselves. And a job interview probably the one place you can do so without hesitation. Don't be pompous or self-absorbed, but by all means, show your interviewer how great you are and how great you would do working for them. Do this by answering questions intelligently and with purpose. It is easy to get overwhelmed, so try to predict some questions, and have pre-prepared answers.
2.  Target your dream employers – Getting an interview in the first place is hard. Often, people send out hundreds of resumes, only to get no response whatsoever – not even a rejection email. It can be rough. So by all means, apply everywhere you can, but be sure to really focus on the employers you want to work for. Make a list of dream-employers, continuously come back to it. Follow up with these employers. Send in your application, and then call who you can, go in in-person if you can. You will prove your persistence and ability to work hard, and hopefully end up in your dream job.
3.  Resume and cover letter – The cover letter is the first thing your potential employer sees of you. They say opinions are formed in less than 30 seconds, so since your cover letter is the only representation of you for that 30 seconds, it better be good. Your resume is the second thing they see, and determines if they will call you in for an interview or not. So again, this one piece of paper is absolutely vital in any fruitful job search. (Cover letter and resume advice coming in a post in the near future!)
4.  Prepare for each interview – Assuming your nailed the cover letter/resume combo, you will be called in for an interview. Do your homework before each nursing interview. Research the facility, its management, important milestones in the company history. It will show your interest in them, your ability to research, and your level of commitment to your work. Knowing a bit about them also helps you stay calm! So learn all you can before walking in. You should also prepare a list of questions for your prospective employer. Ask about training and advancement opportunities, the composition of the department you would be working on, advice from your interviewer, etc. Questions show that you are engaged and curious and a trainable team player.
5.  Practice – All the preparation in the world means nothing if you freeze during an interview. Practice mock interviews with your friends, your mom, your peers, nursing instructors, the random guy on the bus, anyone willing to listen. If your school has a student services department, take advantage. They are an invaluable force rooting for you, in an effort to help you ace every interview and land every job.
If you follow these guidelines you will increase your chance of landing the interview, at a nursing or allied health job you actually want. We offer three nurse training programs at Unitek.

* Programs vary by location
** Bakersfield campus is currently not accredited
https://www.unitekcollege.edu/wp-content/uploads/2018/01/interview-tips-for-next-nursing-interview.jpg
533
800
Unitek College
https://www.unitekcollege.edu/wp-content/uploads/2017/07/unitek-college-logo-01.svg
Unitek College
2013-09-06 07:25:12
2018-03-19 21:57:41
Interview Tips for Your Next Nursing Interview