What to Expect in Pharmacy Technician Training
If you are considering a career as a Pharmacy Technician, you are most likely wondering what to expect in Pharmacy Tech training. Any healthcare career will require time in the classroom, as both academic knowledge and practical training are necessary to succeed. Before investing your time and your finances, it's important to take an honest look at what you can expect to encounter.
In Pharmacy Technician programs, you will learn about abbreviations and symbols for common medications, perform aseptic techniques, prepare parenteral admixtures, manage insurance claim forms, and calculate proper dosages for various medications. The Pharmacy Technician program at Unitek College includes a 240-hour supervised externship, one that provides students with hands-on experience before they graduate.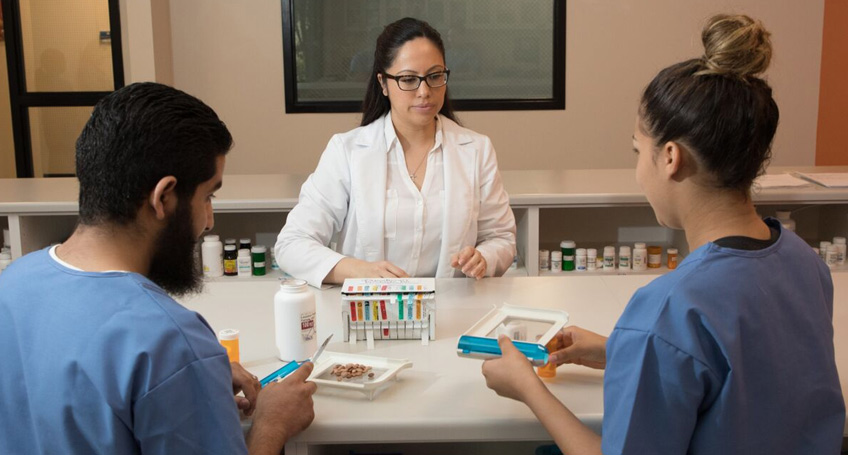 Unitek's PT program seeks to educate the "whole student," providing instruction on professionalism, communication, problem solving, and analytical skills. Additionally, students will graduate with a solid understanding of OSHA and HIPPAA guidelines. This knowledge is crucial in order for one to practice ethically and responsibly.
Pharmacy Technicians typically work in retail pharmacies or hospitals under the supervision of a Licensed Pharmacist. A typical work day in a retail pharmacy might include stocking inventory for prescriptions, maintaining patient records, counting medication, and preparing labels. In hospital pharmacies, a Pharmacy Tech may interact regularly with nurses and physicians to provide quality care for patients. Needless to say, a detail-oriented nature is critical for Pharmacy Technicians.
What to expect at Unitek's Pharmacy Tech Program
At Unitek College, you can expect to take various classes for the PT program. Some of these classes include Introduction to Pharmacy Care & Law, Drug Distribution, Pharmacology, IV Admixture, Compounding, Institutional Pharmacy, and Ethics & Communication. A portion of these classes utilize both lab space and classrooms. The labs are designed to meet industry standards and emulate real-world scenarios in several pharmacy settings.
Toward the end of the program, students spend at least 240 hours completing an externship in an actual pharmacy. Their performance is graded, and their time must be verified by the supervising pharmacist. This hands-on experience is seen as a vital step for all PT students.
Additionally, Unitek's PT program has been programmatically accredited by the ASHP/ACPE Pharmacy Technician Accreditation Commission (a collaboration between the American Society of Health-System Pharmacists and the Accreditation Council for Pharmacy Education).1 For 75 years, ASHP has been at the forefront of efforts to improve medication use and enhance patient safety. When searching for the right PT program, it would be wise to select one that has been accredited.
California Pharmacy Technician training
Unitek College maintains several campuses in California and offers flexible options to first-time career seekers as well as "career-changers." One benefit of pursuing education with Unitek is the accessible career services team. Not only are they available to help students understand the job search process, but they also educate students about marketing themselves to employers.
For more information about Unitek programs, please visit our website or contact one of our campuses. The next step in your career could be closer than you think!
1 https://www.unitekcollege.edu/about-us/

https://www.unitekcollege.edu/wp-content/uploads/2018/04/pharmacy-technician-training.jpg
455
848
Unitek College
https://www.unitekcollege.edu/wp-content/uploads/2017/07/unitek-college-logo-01.svg
Unitek College
2018-04-11 16:38:14
2018-04-11 20:44:18
What to Expect in Pharmacy Technician Training