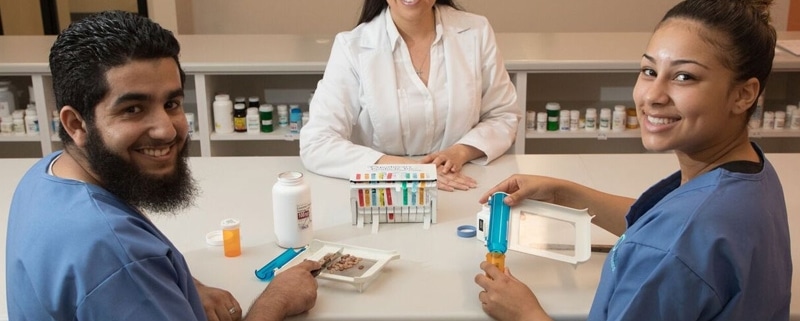 Why Should I Choose a Pharmacy Technician Career
Duties of a Pharmacy Tech
Pharmacy technicians assist registered pharmacists in fulfilling their most important role, that of providing with medication. By doing so, pharmacy technicians represent indispensable support staff for pharmacists. Assistance with filling drug prescriptions and with review of orders for dosages, allergies, incompatibilities and interactions is the main role of a pharmacy technician. He or she works as part of a team and assists the pharmacists by performing tasks such as mixing, measuring, packaging, and delivering medications. At the same time, a pharmacy technician needs to maintain computerized lists of the medications and check with the pharmacists before delivering any medication, to see whether those are the right drugs. Other responsibilities of a pharmacy technician may include cleaning and sterilizing instruments, transporting medication and pharmacy equipment to clinics and nursing units, answering various questions about non-drug products, or calling physician's offices for prescription refills.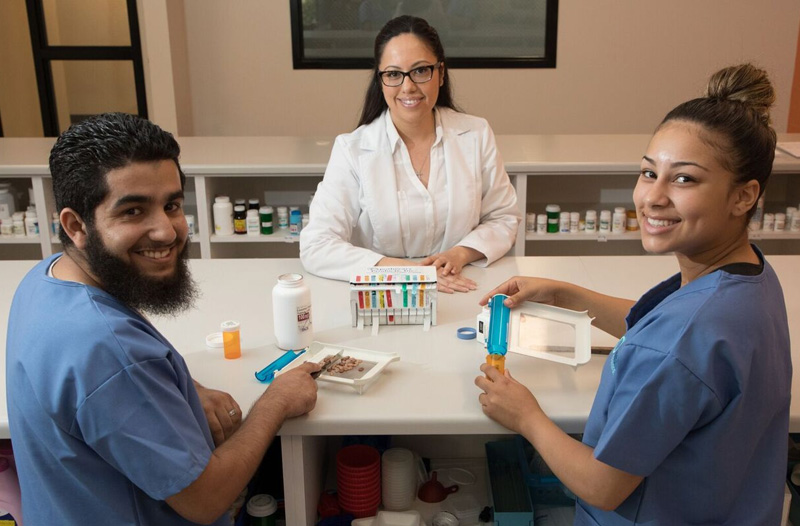 Good Working Conditions for Pharmacy Technicians
Many people choose a pharmacy technician career for a variety of reasons. First of all, the working conditions are very good. Pharmacy technicians work in clean and organized areas, which are well ventilated and well lit. Another reason to choose a pharmacy technician career can be represented by the amount of income that a tech receives. The possibility for the income to increase exists, as pharmacy technicians may be required to work weekends and holidays; experience in the field typically comes with higher wages. In certain settings, pharmacy technicians receive full benefits, such as medical and dental insurance, paid sick leave and vacation, and retirement plans. Individuals also choose a pharmacy technician career because it represents an important part of the health care system.
There is no requirement for formal training or licensing as pharmacy technician. However, on-the-job training is less available nowadays, and employers prefer individuals who hold a pharmacy tech certification issued by a training institution. There is a voluntary exam that future pharmacy technicians can take, known as the National Pharmacy Technician Certification Examinations. Everyone who holds a pharmacy tech certification needs to re-certify every two years.
As mentioned above, employers tend to choose formally trained individuals. Any pharmacy tech class should include classroom training as well as hands-on experience through internships in actual pharmacies or other similar settings. The laboratory work and classroom study provided in a pharmacy tech class typically covers subjects like medical and pharmaceutical terminology, pharmaceutical techniques and calculations, pharmacy record keeping, law and ethics. Students also need to learn names, actions, doses and uses of different medications. Though not required for registration in a pharmacy tech class, strong mathematics, reading and spelling skills, as well as a background in health education and chemistry are highly recommended. Upon completion of a pharmacy tech class, the students will receive a certificate, a diploma or an associate degree.

* Programs vary by location
** Bakersfield campus is currently not accredited
https://www.unitekcollege.edu/wp-content/uploads/2018/01/pharmacy-technician-salary.jpg
526
800
Unitek College
https://www.unitekcollege.edu/wp-content/uploads/2017/07/unitek-college-logo-01.svg
Unitek College
2011-10-14 08:07:58
2018-01-30 16:06:31
Why Should I Choose a Pharmacy Technician Career