A career in Medical Assisting is promising and full of opportunity. If you are considering a career as a Medical Assistant, you can rest assured that this profession will help you develop skills you'll need to reach your potential. Knowing that your work has helped patients heal both physically and emotionally is one of the most rewarding aspects of a career in healthcare.
A Different Path for any Medical Assistant
Every Medical Assistant's path is different. Because of this reality, Unitek College provides personalized career advising to students in the program, offering support to help them with their next steps after graduation. What is the next step after becoming a Medical Assistant? The advisors at Unitek help students develop a career strategy to help them feel successful and confident as they enter the workforce.
While no two Medical Assistants have an identical career path, a typical career trajectory will start with a student gaining experience through their first Medical Assisting position in a physician's office, nursing home, or hospital. Their days will be spent taking vitals and drawing blood, learning how to work on an interdisciplinary team of doctors and nurses.
Entry-level Medical Assistants are exposed to patients of all different backgrounds and get a sense for how physicians diagnose and treat their patients. The first few years of a Medical Assisting career move at an accelerated pace and a motivated Medical Assistant does everything in their power to absorb it all.
Medical Assisting – A First Look at the Healthcare Fields
Medical Assisting is appealing because it gives individuals interested in healthcare careers a first look into the field. It is not uncommon for a Medical Assistant to decide from their experience that they'd like to apply to medical school. The clinical experience gained from a Medical Assisting career is helpful for medical school candidates as they write their personal statement and show proof of patient contact. Other Medical Assistants veer off into respiratory therapy or nursing careers.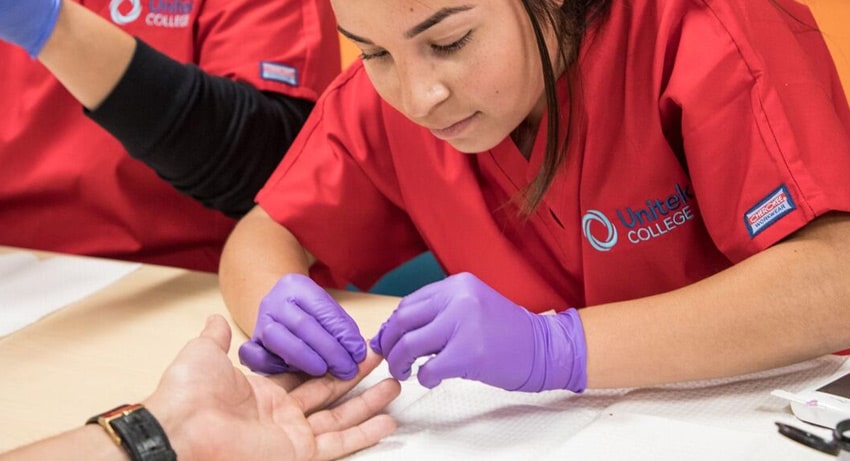 Some Medical Assistants have no desire to leave the profession but instead choose to work in different offices, perhaps working under a physician that practices osteopathic medicine or natural medicine instead of allopathic medicine. After receiving clinical experience in school and working after graduation, a Medical Assistant may realize that they want to specialize, working in a practice that focuses on podiatry or cardiology for example.
Medical Assistants have different goals
Medical Assistants have different goals and most find that their career goals evolve over time.The first step to figuring out where you belong within the healthcare field is to gain hands-on experience with patients as a Medical Assistant. Through the Medical Assisting role, you will gain valuable experience and insights into the healthcare field that will help you plan for a successful and fulfilling career. Learn more about Unitek's Medical Assisting Programs in California.
We Offer Medical Assisting Training Throughout California:

https://www.unitekcollege.edu/wp-content/uploads/2018/07/next-step-after-becoming-a-medical-assistant.jpg
461
850
Unitek College
https://www.unitekcollege.edu/wp-content/uploads/2017/07/unitek-college-logo-01.svg
Unitek College
2018-07-30 20:43:22
2018-07-30 20:48:10
What Is the Next Step After Becoming a Medical Assistant?