Unitek College offers a convenient Medical Assisting program that launches graduates into Medical Assistant jobs and careers in Fremont, California. With the demand for qualified Medical Assistants on the rise, this career path offers job security and a bright outlook. Before committing to a program, it is important to do the proper research and self-exploration to ensure that the Medical Assistant program will meet your expectations.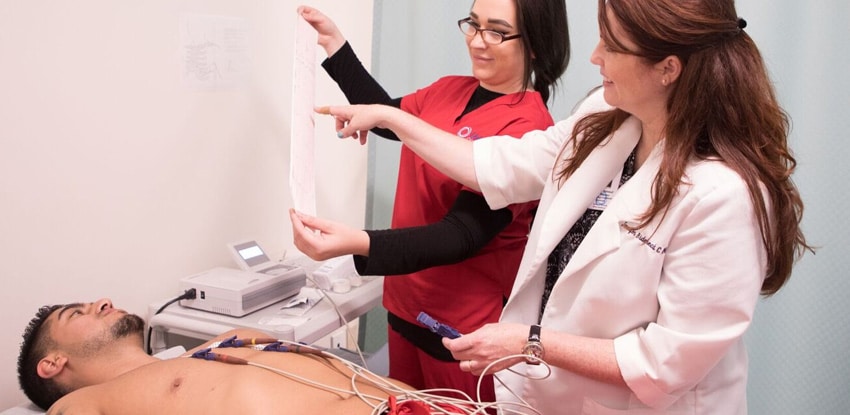 Searching for Medical Assistant Schools
While searching for Medical Assistant schools, it is wise to ask yourself a few questions. For example, you should take your personality type into consideration. Since Medical Assistants play a hands-on role with patients—they prepare patients for exams and assist physicians during these exams—it's important for Medical Assistants to be friendly, inviting, and genuinely compassionate toward patients of all ages and walks of life.
Unitek's Medical Assisting curriculum includes coursework in medical terminology, anatomy, and physiology. It also covers more practical duties that are typically required in the field. The subjects you'll be studying are important to consider as well. Not only do you enjoy science courses, but do you have a proven track record in these subjects? If so, the likelihood is greater that you will enjoy a Medical Assisting program.
Unitek's program provides students with the knowledge and skillset to hit the ground running
Students will receive traditional instruction, hands-on lab exercises, and a 160-hour supervised externship. Unitek graduates leave the program with real work experience under their belts, which makes their transition to the workforce a little easier. Without a doubt, patient-interaction experience looks great on a graduate's resume.
Additionally, Unitek students have access to career counseling and several other resources. Altogether, these resources will help prepare them for interviews and give them further insight into employment opportunities. Many graduates find meaningful employment at hospitals, nursing homes, clinics, and doctor's offices.
Unitek's program provides MA students with the practical or "hard" skills they need to succeed
They also gain the "soft" skills that are equally important to employers. During the learning process, students develop their communication skills, professional behavior, problem solving abilities, and teamwork skills. Understanding the importance of these skills while working with an interdisciplinary team of healthcare professionals, instructors incorporate MA training into the curriculum and provide personalized feedback to students throughout their time in the program.
We Offer Medical Assisting Training Throughout California:

https://www.unitekcollege.edu/wp-content/uploads/2017/07/unitek-college-logo-01.svg
0
0
Unitek College
https://www.unitekcollege.edu/wp-content/uploads/2017/07/unitek-college-logo-01.svg
Unitek College
2018-06-24 15:32:04
2019-11-18 14:33:45
Train for Medical Assistant Jobs and Careers in Fremont