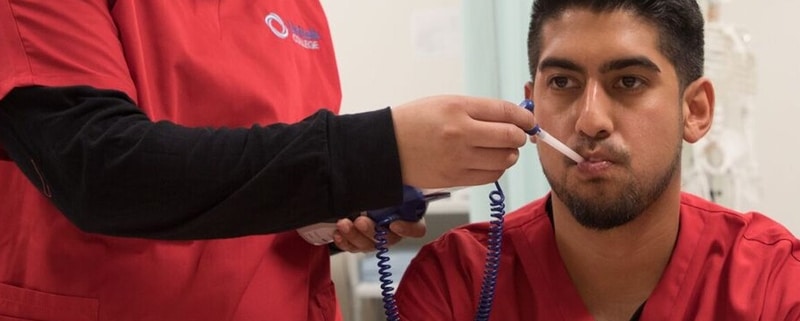 Christian Paronable's Story
Christian Paronable is just eighteen years old. But he has already accomplished a lot for someone his age. On March 29th 2013 he graduated from the Unitek College Medical Assisting program. Being such a young grad, it may seem that Christian had always planned on becoming a Medical Assistant, but Christian actually wasn't set on Medical Assisting from the start. After graduating high school a year early, he wavered between entering the military and entering the medical field. "I picked Medical Assisting because my mom is a CNA," says Christian, "and that's what motivated me." After some online research into various programs, he found Unitek College and decided to "give it a shot." And he is glad he did. The Medical Assisting program was a perfect fit for Christian. "After I finished [the program], it felt like destiny, like I should have been here all along."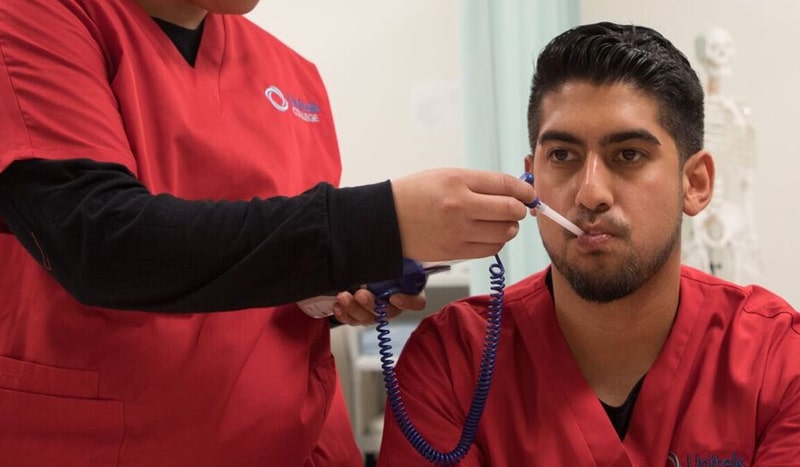 Christian is very happy with his Unitek experience
Christian immersed himself in learning all things medical assisting, he bonded with his instructors and his classmates, and he was placed in a highly-coveted externship at Kaiser, where he hopes to soon be hired. He says the student-teacher interaction at Unitek had a huge impact on his education: "I loved it," he says, "My teacher, Ms. Lisa, she is amazing. She is the best teacher that I've ever had." Christian says his bond with Ms. Lisa helped him get through the program. "She's like a grandma, a best friend, a person that I can talk to about anything." Ms. Lisa has become a mentor to Christian, and was paramount in his training as MA. Ms. Lisa helped place Christian in his Kaiser externship. "She talked to management there, told them I was Kaiser-material."
Christian's externship at Kaiser is one of the highlights of his time at Unitek.
Although nervous at first, he enjoyed every moment of the externship. On his first day at Kaiser, he "was really scared," he says, "but I made it work." He made it work, by working hard! The externship provided him the opportunity to put all the skills he learned in Medical Assisting labs and classes, to work. "I honestly loved it. I wish I could [extend the internship] and work in every single department there is." Christian soaked up as much as he could during his time externing in the Oncology department by interacting with doctors and patients and asking as many questions as he could. He is currently in the process of applying for a position in the Gastroenterology department.
Christian also enjoyed his time in class. Just seventeen years old when he began the program, he was the youngest one in class. But he didn't let that intimidate him from jumping in and participating as much as possible. He said bonding with older people in the group helped him mature. And he will be a better MA because of it. Christian notes the classes provide the opportunity to "meet people from all different cultures, of all different ages." This diverse interaction prepares students to enter the work place, as medical professionals work, treat, and interact with a wide variety of people.
The Unitek Advantage of the Career Services department
Another aspect of the Medical Assisting program at Unitek that Christian took advantage of was the Career Services department. He says Career Services helped prepare him for his post-graduation job search. Unitek College Career Services works with students to properly prepare applications and resumes, and practice mock interviews, access current job board postings, and give recommendations, so by the time graduation comes, students are ready to enter the workforce with confidence. "My Career Services rep helped me build my resume, and really whatever I needed help with," Christian says.
His time at Unitek flew by. In part, this can be attributed to the old adage: "time flies when you're having fun," but this accelerated program really does "fly by". Intense classes and extensive externships help accelerate time in school. Christian completed the Medical Assisting program in just 18 months. So how does graduation feel? "It feels amazing," he says, "I just had my high school graduation party, and now I'm having my Medical Assisting graduation party." His advice for future Unitek College students: "Try your best, never give up, and don't waste your tuition money."
We Offer Medical Assisting Training Throughout California:

https://www.unitekcollege.edu/wp-content/uploads/2018/01/christian-paronables-story.jpg
467
800
Unitek College
https://www.unitekcollege.edu/wp-content/uploads/2017/07/unitek-college-logo-01.svg
Unitek College
2013-09-06 07:38:08
2018-06-12 21:32:38
Christian Paronable's Story