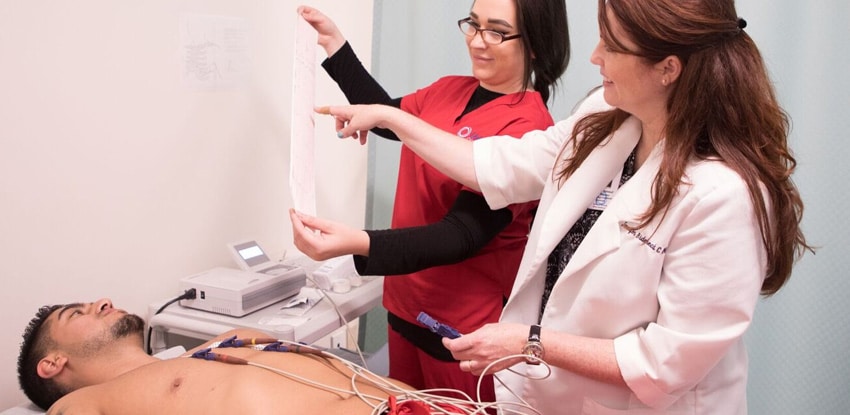 If you're interested in healthcare careers but lack the time to pursue an advanced degree, Medical Assistant trade school might be the ideal choice for you. In less than one year, you can be equipped with the academic and practical knowledge that's often necessary to obtain meaningful employment in a clinic, hospital, physician's office, or another healthcare environment.
At Unitek College, Medical Assisting students graduate from school with a variety of administrative and technical skills. They're prepared to work alongside nurses, physicians, social workers, physical therapists, and healthcare administrators. Learn more about this comprehensive yet efficient program below…
Six Facts About Unitek's MA Program
1. Accredited Campuses: Unitek's campuses are accredited by the Accrediting Commission of Career Schools and Colleges (ACCSC), a recognized accrediting agency by the U.S. Department of Education. It's important to pick a school that you feel is trustworthy.
2. Medical Assistant Program Overview: The MA program is designed to produce a safe and competent Medical Assistant for entry-level work. Our intensive curriculum emphasizes both administrative and clinical skills. Additionally, it includes extensive instruction in medical terminology, medical office procedures, medical/clinical procedures, basic anatomy and physiology, and special duties common in the field.
3. Classroom and Lab Environment: Our Medical Assisting students typically have access to fully-equipped labs that simulate office and clinic settings. Among other devices, students will find the following lab equipment: microhematocrit centrifuge, blood and urine centrifuge, pulse oximeter, electrocardiogram machine, glucose meters, autoclave machine, a hemoglobin meter, and so much more.
4. Courses and Hours for the MA Program: After the successful completion of all on-campus instruction, students are scheduled for a full time, supervised externship. It's important to note that students must complete all on-campus instruction to be eligible for the externship, and they are required to complete 150 hours of outside-class assignments/projects throughout the program. Additionally, the MA program can be completed in as little as 9 months.
5. Educational Objectives & Corresponding Occupation: Successful graduates of the MA program will be prepared to gain employment as Medical Assistants. After completing their Medical Assistant training at Unitek, they will be equipped with the necessary skillset to perform various administrative and clinical tasks. These include but are not limited to the following…
+ Administrative functions: answering phones, scheduling appointments, greeting patients, updating and filing patient charts, ordering supplies, arranging for hospital admission and laboratory services, and handling billing or bookkeeping tasks.
+ Clinical functions: relaying prescriptions to a pharmacy, collecting and preparing laboratory specimens, sterilizing medical instruments, preparing patients for x-rays, taking electrocardiograms, removing sutures, and changing dressings.
6. Certification Exams: Graduates of the program may be eligible to take various professional certification exams, including the NCCT exam required for the National Certified Medical Assistant (NCMA) credential and the American Medical Technologists (AMT) to earn the Registered Medical Assistant (RMA) credential. Such credentials are not required to graduate, but may be of value depending on a student's particular career goals.
+ Note: Our faculty members are available to advise students seeking such professional certifications.
More About Unitek College
Founded in 2002, Unitek College is an accredited, private institution that combines unique academic and technical specialties to provide a superior education in the areas of healthcare and nursing. We offer seven convenient facilities in California with campuses in Fremont, San Jose, Hayward, Concord, South San Francisco, Sacramento, and Bakersfield. At Unitek, we provide healthcare career training, professional development, and employment assistance to graduates.
We hope we've provided you with plenty of information about the Medical Assisting program. If you found this list helpful and you'd like to speak with a school representative, please contact your desired campus here or explore all that Unitek has to offer.
Change your future, today!
https://www.unitekcollege.edu/wp-content/uploads/2018/06/train-for-medical-assistant-jobs-and-careers-in-fremont.jpg
415
850
Unitek College
https://www.unitekcollege.edu/wp-content/uploads/2017/07/unitek-college-logo-01.svg
Unitek College
2019-05-02 05:15:56
2019-04-26 13:15:18
All About Unitek's MA Program