Once you've decided to become a Medical Assistant, there are several things you should consider. While these typically include obvious ones, such as location, specialty, and salary, it's just as important to pick the Medical Assistant program that's best for you. One way you can better understand a school and a program is by taking a closer look at its coursework. Delving into Medical Assistant courses will also provide you with a window into your future profession.
Today, we've put together a detailed outline of our MA courses at Unitek College!
MA Courses at Unitek College
Introduction to Medical Assisting/Medical Law: This course is designed to introduce students to the healthcare industry. Overall, it gives them the opportunity to explore and learn more about the role of the Medical Assistant in healthcare.
Pharmacology, Medication Administration, Diagnostic Imaging: This course introduces students to the Medical Assistant's role in healthcare as it relates to pharmacology, diagnostic imaging, and anatomy and physiology. Content includes but is not limited to…

Terms, structures, and function of the body
The skin and the muscular skeletal systems
Calculation of dosages for injection
Assisting with physical examinations by positioning and providing privacy for a patient
Setting up the correct instruments and supplies, explaining the procedures to the patient, and maintaining patient safety before, during, and after the procedure
Positioning and providing privacy for patients who must undergo diagnostic imaging

Patient Assessment, Cardio-Pulmonary, Gastroenterology: This course delves into the assessment process for Medical Assistants as well as relevant procedures. It also delves into the cardio-pulmonary and gastrointestinal systems. Some of the content covered will include the structures and functions of these systems. Additionally, students will learn about the role of Medical Assistants in the prevention of disease and the promotion of behaviors that will decrease risk of infection. Bonus: Students will have the opportunity to assist with performing EKG and respiratory tests.
Eyes, Ears, Nose, Throat, Nervous System: Similarly, this course provides students with the opportunity to explore the role of the Medical Assistant in healthcare as it relates to the nervous and endocrine systems. It facilitates the learning and understanding of the diseases that can affect these systems. Additionally, students will receive real-world lab experience to prepare for employment in the healthcare field.
Stages of Life–Pediatrics, OB/GYN, Geriatrics: This course covers how the role of the Medical Assistant relates to the stages of life; surgical asepsis; care, use, and handling of surgical instruments and the surgical environment; and the process and procedures for a urinalysis.
Computerized Medical Assisting: This course educates students about management skills, various processes, and other business aspects of a medical practice. Some of the content covered will include…

Front office skills and processes, such as scheduling appointments, medical record keeping, filing, health insurance, billing and coding practices, and banking services and procedures
Communication through various modalities, such as telephones and computers
Rules of professional conduct

First Aid, Emergencies, Behavior in Acute Situations: This course provides the student with the opportunity to explore professional behavior in the healthcare workplace. It also highlights the importance of communication and the use of interpersonal skills. Other topics include medical ethics, patient education in emergencies and first aid situations, and triaging in a physician's office or clinical settings.
Medical Assisting Externship: This course gives students a great opportunity for continued learning. They will have the chance to demonstrate their ability to transfer classroom knowledge to an externship setting. During this period, students will be directly supervised and complete 160 hours of real-world training in clinical settings.
More About the Medical Assistant Program at Unitek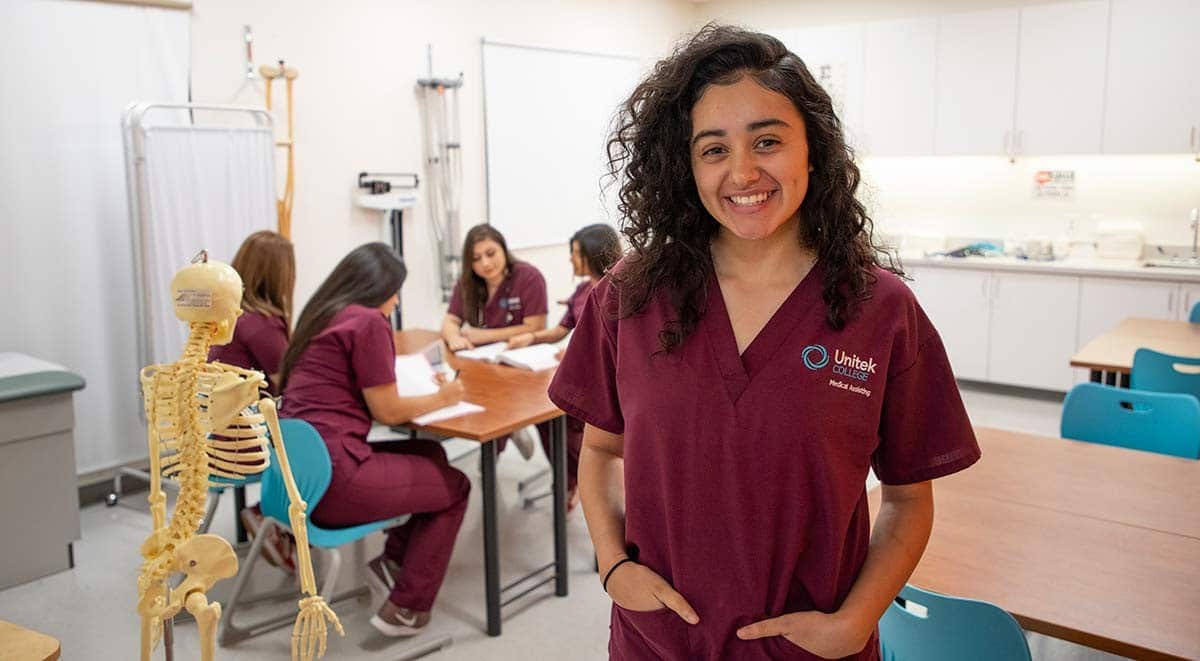 The primary goal of the program is to prepare students for entry-level employment as Medical Assistants. Above all else, Unitek College strives to be accessible and inclusive, and we are proud of the success stories we've helped create. Currently, we maintain seven campuses in the state of California. All of our locations offer a comprehensive MA program that can be completed in as little as 9 months.
If you've been searching for "Medical Assistant schools near me," you've come to the right place! Learn more about our program and dynamic locations here, where you'll find contact information for each campus.
Change your future with Unitek College, today.
https://www.unitekcollege.edu/wp-content/uploads/2019/04/medical-assistant-training-near-me.jpg
750
1259
Unitek College
https://www.unitekcollege.edu/wp-content/uploads/2017/07/unitek-college-logo-01.svg
Unitek College
2019-04-18 05:15:48
2019-04-12 09:30:43
A Look at Medical Assistant Courses