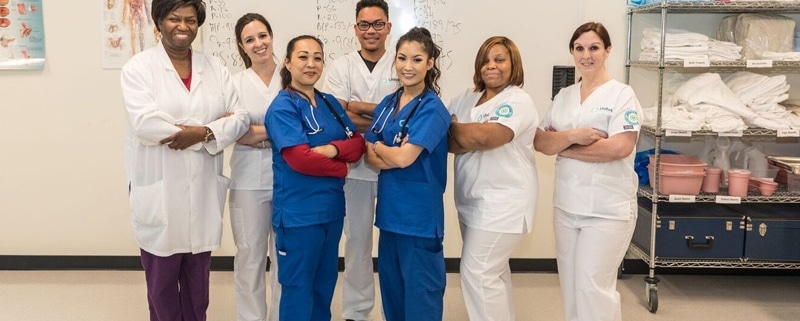 Vocational Nursing Programs | Nursing Program in California

Licensed Vocational Nursing Programs – Launch into a Personal and Financial Rewarding Career
If you are considering building a career in the medical field as a LVN (Licensed Vocational Nurse) or LPN (Licensed Practical Nurse), you are definitely on the right track! A career as a LVN or LPN offers a lot of advantages and satisfactions on multiple levels: apart from being a noble and morally rewarding career, it can potentially ensure a financially stable future. The median annual wage received by LVNs in California is $51,150 (Source: www.bls.gov, 11/2013). Actual wages will vary based on location, experience and many other factors. Undoubtedly, a career as a nurse can potentially allow and facilitate various possibilities of promotion in other adjacent medical specialties.
Vocational Nurse is also very durable and secure on professional level
In addition to being financially rewarding, a career as a Vocational Nurse is also very durable and secure on professional level, as there is a very high demand for nurses in medical institutions, clinics or schools, not only in the United States, but also everywhere else throughout the world! Statistics indicate that there is a pronounced shortage of well-trained vocational nurses in present, rendering qualified practitioners in the branch highly requested among healthcare institutions and various other establishments.
Nevertheless, the shortage of vocational nurses is expected to double or even triple in the following years. This is very good news for those aspiring to become Licensed Vocational Nurses in order to build a solid and durable career. In spite of the fact that unemployment and job insecurity are ever-growing problems in our insecure world, nursing job opportunities seem to be growing continuously, rendering a career in the field a very smart move for anyone who wishes to achieve financial stability.
Passing the NCLEX-PN Licensing Examination
In order to make sure that you experience no difficulties in passing your NCLEX-PN licensing examination, and rapidly become a member of the qualified staff in the best healthcare institutions, it is very important to attend to a high quality Vocational Nursing program. Our Vocational Nursing program equips students with the necessary tools to pass the NCLEX-PN licensing examination. Vocational Nursing courses are typically structured over the period of three to four semesters; however, some programs can be completed in less than 12 months.
Opportunity to develop a series of specific technical skills
An Vocational Nursing program offers students the opportunity to develop a series of specific technical skills, corroborated with a set of interpersonal abilities. By the end of the program, students will have developed good practical skills and abilities regarding nursing care, administering medical treatments, identifying, reporting and registering patients' symptoms, as well as fulfilling various therapeutic and recuperative methods. State Nursing Board Accredited Vocational Nursing programs account for every aspect of being a qualified and skilled vocational nurse, guaranteeing graduates the opportunity to work in the best healthcare establishments in the world. After completing an Vocational Nursing program, graduate students are a single step away from a much desired and rewarding career in the medical field.

* Programs vary by location
** Bakersfield campus is currently not accredited
https://www.unitekcollege.edu/wp-content/uploads/2018/01/launch-into-a-rewarding-career-with-lvn-program.jpg
543
800
Unitek College
https://www.unitekcollege.edu/wp-content/uploads/2017/07/unitek-college-logo-01.svg
Unitek College
2011-10-14 08:48:55
2018-01-30 16:21:11
Vocational Nursing Programs | Nursing Program in California